10 Saints named after the 10 Saint parishes of Barbados is a specialty micro brewer of unique beers. During the 2009 Barbados 'Jazz on The Beach' Festival, Glyn Partridge a music and drinks entrepreneur, whilst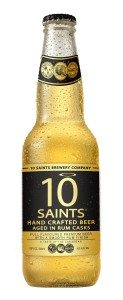 liming on the beach with musicians, had the great idea of combining the rum heritage of Barbados with refreshing lager beer to produce a truly unique taste. 10 Saints Oak Aged beers were born and 10 Saints is now the leading premium craft beer in the Caribbean. Already exporting to 11 markets, production capability has been increased to enable us to expand further.
Product Description
Our premium microbrewed lager beer is uniquely aged for 90 days in 'Special Reserve' rum casks from the world's oldest distillery. This complex brewing process produces a smooth full flavoured yet refreshing lager beer with oak and rum notes. Golden amber in appearance the palate is rounded with vanilla and tropical spice notes balanced by the oak background, deliciously different with an ABVÂ (alcohol by volume)Â of 4.8%.
Contact
Glyn Partidge
Tel: 1 246 261 5874