The Caribbean Export Development Agency officially said farewell to its longest standing Executive Director, Pamela Coke-Hamilton on Friday 27th July 2018 and announced the 2018 Caribbean Exporter of the Year Awards (CEYA) to be held this year in November.
Pamela-Coke Hamilton joined the Agency at the start of the 10th EDF Regional Private Sector Development Programme (RPSDP) back in 2010 and under her leadership the Agency has become one of the most important regional agencies supporting Caribbean private sector development.
At the reception Head of Delegation of the European Union to Barbados, the Eastern Caribbean, the OECS, CARIFORUM and CARICOM H.E. Daniella Tramacere commended Coke-Hamilton for the work that she has done commenting that "If Caribbean Export has a real chance now to become an institution that is self-sustainable it is because of you." Under Coke-Hamilton's leadership the Agency has implemented a number of initiatives that directly contribute towards the sustainability of the Agency such as the Caribbean Export OUTLOOK publication and the Caribbean Exporter of the Year Awards.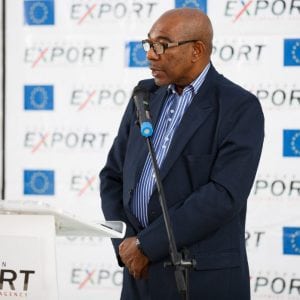 Mr. Percival Marie, Director General of the CARIFORUM Directorate highlighted that Coke-Hamilton had transformed Caribbean Export into a credible sought-after implementing Agency. Further although the region was "losing an asset" Marie pointed out it is "gaining an international advocate and friend" as she embarks on a new role with UNCTAD as the Director of International Trade on Goods, Commodities and Services based in Geneva.Â
As the outgoing Executive Director, Pamela Coke-Hamilton thanked the Board and CARIFORUM for giving her the opportunity and trusting her to lead the Agency over the past 8 years. Coke-Hamilton shared that it has been her strongest desire "to add value to human kind, to bring dignity and make the world a better place.  Caribbean Export has been an incredible launching pad for that dream to be realized."
Coke-Hamilton also thanked the European Union for their commitment and invaluable partnership as the Agency continues to grow and transform to meet the demands of the changing international economic landscape.
Highlighting the incredible work ethic of the management and staff of Caribbean Export, Coke-Hamilton gave a heartfelt tribute sharing that "the power and success of any team is based on integrity, commitment and sacrifice of all its members and you evinced those characteristics in spades."
The Caribbean Exporter of the Year Awards (CEYA) was just one of the initiatives conceptualised under her tenure to support the creation of an export culture across the region by encouraging CARIFORUM firms to begin exporting or to expand their exports through a programme that acknowledges and rewards exporters.
Now on its 3rd staging, the CEYA 2018 categories will include the Emerging Exporter of the Year; the Female Exporter of the Year; the Green Exporter of the Year; the Special Award – Excellence in Services Exports, the Caribbean Export Choice Award and the Caribbean Exporter of the Year. Interested companies are encouraged to apply via the Agency's website.