Revenue in the rum segment for 2019 amounts to nearly £1 million
In the last three years, exports of rum from Caribbean companies to the European Union have grown by nearly 27%
The 4th CARIFORUM-EU Business Forum will be the meeting place, from 26 to 28 September, for some of the sector's most representative brands and professionals
Caribbean rum is one of the preferred drinks of the British, a fact reflected in the market, which is expected to grow in the UK by 8.8% in coming years. Revenue in the rum segment for 2019 amounts to nearly £1 million. This increase in sales is accompanied by a diversification of the industry, which is offering more and more varieties that address a growing demand and a diverse consumer audience.
To spread the word about these new trends and call attention to brands that are still not as popular on the continent, the 4th CARIFORUM-EU Business Forum—organized by the Caribbean Export Development Agency in conjunction with the European Union and the German Development Agency (GIZ)—from 26 to 28 September, in Frankfurt, will bring together some of the sector's leading producers, mixologists and other Caribbean professionals.
To talk about rum is to talk about the Caribbean: the place where this drink was discovered and where, in the 17th century, sugar cane plantations covered the land. But times have changed a great deal for this spirit, which today is available in surprising variants. Thus, as Damie Sinanan, Manager of Competitiveness and Export Promotion at Caribbean Export, explains, "rum production in the past decade has become diversified to embrace a wide variety of flavors, like apple, pineapple, mango and passion fruit." Flavors that perhaps still are not as widespread among consumers but which are gradually penetrating the market on the European continent. But, "thanks to these new trends and to growing demand, we are hoping to see more and more variants of Caribbean rum in the European market," says Sinanan.
Exports from the 15 CARIFORUM countries to Europe have grown by 26.86% in the last three years. Despite the fact that the U.S. is the main consumer of rum, European countries like Spain and Germany have great weight in this market.
But, what do we really know about this drink? We learned some interesting things about rum:
1. Not all rums are sweet:
Rum in its natural state does not contain sugar: its sweetness comes from the process of ageing it in barrels—which are typically made of American oak. Some rum producers add sugar to the distilled rum to sweeten the product and make it smoother. Nonetheless, the Caribbean authentic rum-producing countries, like Barbados, Jamaica or Martinique for example, do not add sweeteners, as they have regulations that prohibit the addition of sugar and other preservatives.
2. Not all rums are dark:
There are different types of rum: golden, dark, white, spiced, aromatized. Aged rum tends to be dark and, in fact, is the most popular variety in Europe, but there are also aged rums that are white in color. Aged white rum is obtained by placing distilled rum in an oak barrel with charcoal filtration, which eliminates the dark color but maintains its flavor. The most popular white rums are Bacardi—with Cuban roots but produced in Puerto Rico—and Cane Spirit Rothschild and Brinley Gold Shipwreck, produced in St. Kitts and Nevis. You'll find quite a few white rums produced across the Caribbean including Mount Gay in Barbados and Wray & Nephew in Jamaica to name a few.
3. Classic and trendy combinations:
In UK, rum is typically consumed in mixed drinks. But experts recommend drinking premium rums straight, on the rocks or combined with just mineral water. Only that way can their complex aromas and flavors be appreciated. Another basic way is in classic cocktails, like the Manhattan or the Old Fashioned. In addition, as the experts from Caribbean Export explain, "a growing trend is to pair rum with different types of food, like chocolate or marshmallows".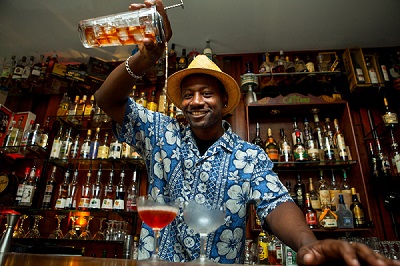 Combinations and nuances that can be discovered within the framework of the fourth CARIFORUM-EU event, as one of the sector's leading experts will be on hand: Ian Burrell, a mixologist known internationally as the Global Rum Ambassador, who has received seven nominations and one award at the Spirited Awards, which are presented at the Tales of the Cocktail festival in New Orleans. There will also be rum tastings, which will bring the authentic taste of the Caribbean to Frankfurt, and at which, as the producers indicate, people will be able to try some of these new varieties that are increasingly pointing to aromatized and fruit-flavored rums.
4. Not everything sold as rum actually is:
Precisely because of rum's growing popularity, counterfeits have increased. For example, and because sugar cane is not grown in Europe, it is obviously impossible to produce an authentic Caribbean rum there. Instead of sugar cane, these imitations use beets or potatoes. To tell if a rum is authentically Caribbean, you should look for the Authentic Caribbean Rum seal.
5. A drink with history:
Although rum has always been associated with pirates, so plentiful in the Caribbean in the 17th and 18th centuries, in reality the people who consumed the most of this drink at first were the local people. Names of pirates like Captain Morgan popularized rum, but brandy, port and Spanish wine were also among the favorite drinks of the corsairs of the era.
Since its beginnings, rum has had different names—from demon water to Barbados water—but the origin of the word "rum" is linked to the English word "Rumbullion." This describes a sugar cane drink that was very popular in the Barbados of the 17th century and means "great tumult."
6. For all pocketbooks:
Like other spirit drinks, rum is available at a wide range of prices. The majority cost between €15 and €50, but astronomical prices have been paid on occasion. For example, 24 bottles of Barbados rum from 1780 fetched €297,000 at an auction at Christie's.
For more information about the 4th CARIFORUM-EU Business Forum, visit: http://www.cedev.local/businessforum/
About the Caribbean Export Development Agency (Caribbean Export)
The Caribbean Export Development Agency (Caribbean Export) is a regional organization of the Caribbean Forum (CARIFORUM) dedicated to the development of exports and the promotion of trade and investment. It is currently implementing the Regional Private Sector Development Program (RPSDP) financed by the European Union within the framework of the 11th European Development Fund (EDF). Caribbean Export's mission is to enhance the competitiveness of Caribbean countries by delivering quality services for export development and promotion of trade and investment by implementing strategic programs and partnerships.
Press Contact:
Apple Tree Communications
Natalia Amores: na@homeatc.com
Adriana Navarro: an@homeatc.com
Tel.: 91 319 05 15