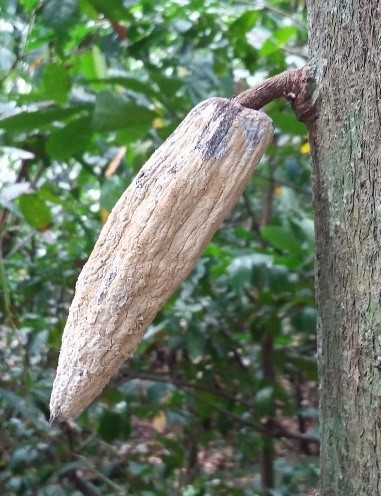 In the fifteen countries of CARIFORUM including Haiti and the Dominican Republic, the highly sought after fine or flavor cocoa is produced. The Dominican Republic is the single largest producer of certified organic cocoa in the world causing the threat of frosty pod to have the potential to severely disrupt these lucrative international markets.
Frosty pod rot is considered the most dangerous cacao disease caused by the fungus Moniliophthora roreri. Following its arrival to Jamaica in 2016[1], frosty pod now poses a tangible and enormous threat to the cocoa sector of the Caribbean.
In Costa Rica it took just five years after the arrival of frosty pod for the country to lose 80% of it's production of cocoa due to its severe damaging effect. This resulted in important changes to the way land was used, away from diversified cacao agroforestry systems to less diverse cropping systems. As a consequence frosty pod can lead to serious negative socio-economic and ecological impacts for any country that becomes infected.
The proximity of Jamaica to Cuba and the island of Hispaniola, consisting of the Dominican Republic and Haiti, and both legal and illegal movements of goods and people between these islands, present major avenues for the further spread of frosty pod. Cocoa farmers in Haiti and the Dominican Republic are poised to suffer great losses unless action is undertaken.
In preparation of the possible arrival of frosty pod, Haiti and the Dominican Republic, with support from the Caribbean Export Development Agency and financial aid of the European Union[2], have embarked on the development of a binational strategy for the prevention of Moniliophthora roreri.
Two international experts, Dr. Wilbert Phillips and Dr. Martijn ten Hoopen, in collaboration with public and private cocoa sector partners, including the Ministries of Agriculture of both countries have prepared a Binational Early Warning Scheme and an Emergency Protocol for the Prevention of Frosty Pod.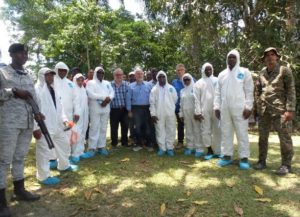 A first ever binational simulation of the arrival of frosty pod and the protocols and quarantine measures to put in place, was held in the Dominican Republic in August 2019.
Both Haiti and the Dominican Republic are well aware of the risk of frosty pod and are acting to counteract this threat. However, continued efforts to sensitize farmers, agricultural technicians and others invested in the cocoa sector is necessary, not only in these two countries but in the Caribbean as a whole to safeguard an important driver for the economic diversification and development of the Caribbean.
For more information on the binational prevention strategy of Haiti and the Dominican Republic you can visit https://www.cedev.local/. For more information on frosty pod, please contact Dr. Wilbert Phillips (wilbertphillips@hotmail.com) or Dr Martijn ten Hoopen (tenhoopen@cirad.fr).

---
[1] Johnson et al. 2017. New Disease Report 36:2
[2] "Trade and Private Sector Component" of the Haiti-Dominican Republic Binational Cooperation Programme, under the 11th European Development Fund (EDF) EDF/2018/399-379