Persons in the audience were left mesmerized when Kimya Glasgow's designs hit the runway at the recently concluded International Fashion Festival – Barbados Fashion Week held from the 26-28 October, 2018 hosted and managed by the Caribbean Market Center.
           Not only was the Vincentian's capsule collection wearable, it was downright fashionable!
In addition to wowing guests at the event, Kimya's work was seen by a team of international buyers and fashion experts including Sharifa Murdock, co-founder and owner of Liberty Fairs and founder of Envsn Festival; Luam Keflezghi, buyer of ready to wear fashion; Danielle Cooper, fashion influencer, photographer and Elle Magazine contributor and Ouigi Theodore, founder of the Brooklyn Circus, a retro-urban fashion boutique and label.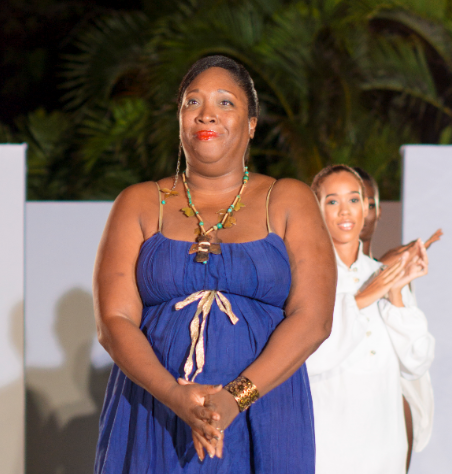 Kimya Glasgow was one of five designers whose participation was sponsored by the European Union through the 11th EDF Regional Private Sector Development Programme (RPSDP), which is being implemented by the Caribbean Export Development Agency.
Commanding the runway with her cohesive designs, Kimya's predominately white capsule collection included chic shirt dresses, mesh beach cover-ups, long flowing dresses and a standout jumper which is the very definition of "casual elegance".
Describing her line as high-end casual, the structure of the designer's garments allows for a flattering yet fabulous fit.
"It's really classic Caribbean style for modern living…. You would realize we have lots of shirt dresses because my clients really love the ease of buttoning up something or just slipping it over their heads. What I like about my line is the versatility. I like that somebody could wear something I designed to the office but then you could wear it to a party after; put on a jacket, take off a jacket and still be cool and feminine."
She also emphasized: "I like to cut for women's bodies so it's about a flattering fit. I highlight and accentuate the things that women feel comfortable with and are confident about, then skim over other parts. I think of my customers as strong and powerful, go-getter women who have busy lives but want to feel confident when they step into a room. I pay attention to detail because I don't want the dress to wear the person, I want the person to wear the dress."
Born in St. Vincent and the Grenadines but raised in Trinidad, Kimya explained she studied fashion design at the Barbados Community College before settling in her birthland to establish her fashion business.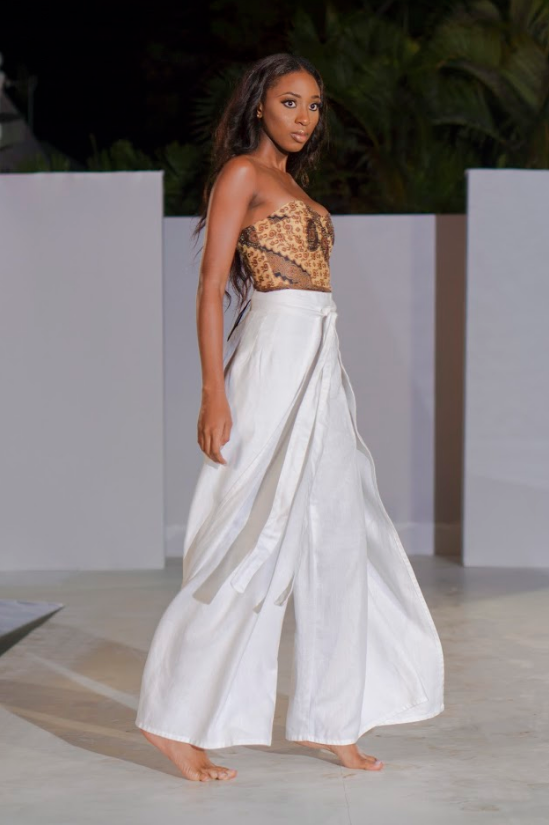 The owner of Kimya Glasgow Boutique, located in the Kingstown Cruise Ship Terminal in St. Vincent, credited the Caribbean Export Development Agency for supporting her dream.
She was a beneficiary of Caribbean Exports' Women Empowered through Export (WE-Xport) programme, which was launched in March 2018. The initiative provides business coaching, training and numerous resources to women-owned businesses in the Caribbean. It also seeks to facilitate export or increase the export of products and services.
"Caribbean Export has been a significant part of my business growth. Over the years, I received many opportunities for business and export training, such as Export Marketing Training." she recalled.
"I applied and succeeded in obtaining a Direct Assistance Grant from Caribbean Export in 2011, which allowed me to do some much needed expansion on my business. Caribbean Export has also supported me by funding my participation in Dominicana Moda 2014, where my collection was well-received and I was able to do significant research on manufacturing in Dominican Republic and Haiti," she added.
Divulging some of her differentiating factors, the Vincentian designer said she had a strong preference for natural fabrics and invoking history in her work.
"We are very much a natural line, we only use natural fabrics so things that are bio-degradable like cottons, linens and silk that feel good on the skin and are actually healthier. People don't often realize because the skin is the largest organ of your body that it actually has an impact on you as a person, but we are moving towards becoming a full eco line in terms of our resort wear and to have a sustainable and ethical brand," she disclosed.
Kimya has also added a touch of Vincentian uniqueness to her designs by incorporating hieroglyphics from Carib stones on one of her mesh cover-ups. The bronze glittered hand-painted symbol pays tribute to the Caribbean's indigenous inhabitants and preserves their history. She intends to recreate more "Carib stone symbols" by hand painting them onto garments and eventually producing a print.
In addition to Kimya Glasgow, the other designers who participated in the International Fashion Festival РBarbados Fashion Week and received support from the Caribbean Export Development Agency were: Kristin Frazer of Tortola in the British Virgin Islands; Roy Thompson of Barbados; David Andr̩ of Haiti; Indira Moss of The Bahamas and Henr̩ Designs of Antigua.
The Caribbean Export Development Agency provides transformative and targeted interventions aimed at enhancing the exportability and competitiveness of regional brands. The Creative Industry, of which fashion is an important sector, has been identified as a priority area.     (SP/Caribbean Export)