Accessing finance to fund business ventures has long been an issue across the Caribbean, especially for women. Now that the Caribbean Export Development Agency and the Caribbean Development Bank (CDB) have joined forces to tackle this challenge, sourcing funds could become easier for women-owned businesses in the Region.
The two organisations today signed an agreement to collaborate on a new programme, Women Empowered through Export (WE-Xport), to support capacity-building for women-owned businesses to facilitate their access to finance. A key component of the new initiative to be launched in March 2018 by Caribbean Export, will be "Access to Finance", and will include a two-day workshop that aims to increase participants' understanding of the requirements of financial institutions and how best to meet them. Ongoing technical assistance through regional business support organisations will also be available to participating companies through the CDB-funded component.
"CDB recognises the importance of micro, small and medium-sized enterprises as contributors to economic growth and development in our Region. We welcome the opportunity to partner with Caribbean Export to give women-owned businesses the support they need to gain better access to financing. We view WE-Xport as another opportunity for the Bank to directly advance women's entrepreneurship, and help women business owners overcome one of the greatest obstacles they face when looking to grow their businesses—unlocking financing," said Daniel Best, Director of Projects, CDB.Â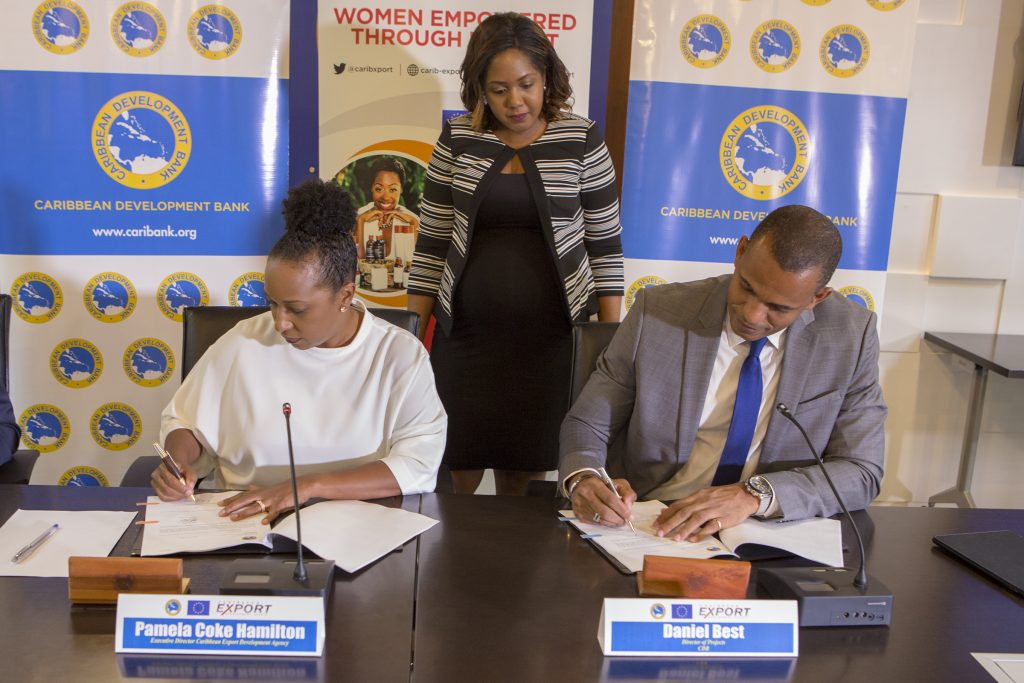 During his statement at the signing of the agreement, Best noted that between 2013 and 2017, CDB provided lines of credit to micro, small and medium-sized enterprises (MSMEs) totalling approximately USD18mn and benefitting 974 MSMEs across the Region. The Bank's support for interventions targeting women business owners builds on research it commissioned in 2016, which identified gender disparities in access to credit across the region. As part of its response, the Bank is also collaborating with regional development financial institutions to develop gender policies.
Executive Director of Caribbean Export – Pamela Coke Hamilton expressed her gratitude to the CDB for catching the vision of the WE-Xport programme early in the initial planning of the project and partnering on the critical access to finance pillar. "As we brainstormed ways of supporting women owned businesses, we recognized that we needed to address the constraints they face in applying for funding. The project which we are collaborating on with the CDB will seek to increase the capacity of women entrepreneurs to better prepare proposals to meet the requirements of the financial institutions. Through your support we will be able to provide training and technical assistance (TA) to 10 women-owned Micro, Small & Medium-sized Enterprises (MSMEs) and 10 Business Support Organisations (BSOs)."
Caribbean Export works closely with the European Union to implement a range of activities that support the development of the region's private sector. Their cooperation for the empowerment of women via WE-Xport is poised to be a game changer for women who participate in the upcoming programme. WE-Xport aims to strengthen and support women-owned enterprises to increase their access to finance, improve and build their capacity as entrepreneurs, increase access to markets (including networking and being integrated to value chains) and advocate on issues and public policies that negatively affect female entrepreneurs.
At the signing, Mr. Luis Maia, Head of Cooperation at the EU Delegation to Barbados, the Eastern Caribbean States, the OECS and CARICOM/CARIFORUM reminded of the long relationship between the EU Delegation and Caribbean Export of close to 20 years of cooperation working towards the development of the region.
"Caribbean Export has been a valued partner in our cooperation with the region and without their assistance we would not have been able to fulfil our mandate towards private sector development and otherwise. Currently the EU is contributing with €24 million to increase employment creation, inclusiveness, particularly for youth, women and indigenous groups, and overall poverty reduction in CARIFORUM countries through targeted interventions that provide new and innovative frameworks for growth and development" shared Mr. Maia to the attending audience.