How many times have you seen an email in your inbox from an email list that you never subscribed to? Or tried unsuccessfully to unsubscribe from a brand's email database? Not only did one of these phantom emails hit my inbox earlier this week, but I also tried, unsuccessfully, to unsubscribe from a company that was bombarding my inbox. For me, these engagements reiterated the need for businesses to review how they use email marketing as a sales tool. Today, I want to share some simple tips to get the most out of your email campaigns.
WHY EMAIL MATTERS
Some may not consider email marketing to be as 'sexy' as social media. But, for me it has been a great communication channel to nurture the relationship with our audience at Caribbean Export Development Agency (Caribbean Export). A digital marketing plan which integrates a diverse toolset, including email marketing, is critical. Here are several reasons why I think you should get excited about email marketing:
Control. It gives you much greater control than other channels like social media. Social media platforms can make any changes they wish, restrict your permissions, or worse, remove your company page without warning if they believe you have violated their terms of service. Email marketing is more of an owned channel or as described by Convince and Convert – granted media. You have almost complete control. Unlike social media, your email list belongs to you and therefore it is critical to ensure that you are moving most of your connections to your mailing list.
Cost effective. Whether you are a micro, small or medium-sized business, you must prioritise marketing spend now more than ever. With the increasing noise and cost in the social media space, a healthy email list can help deliver your message to an engaged audience at a fraction of the cost of other tools.
Reach. How often do you check your email? Daily? Multiple times a day? Once a week? An estimated 70% of active email accounts are checked by their owner every day. I review my inbox twice a day, my personal Facebook account, not so much.
Open Rates. In 2020, the average email open rate for all industries was 18.O%. That means you will reach almost one-fifth of your audience. Compare that to Facebook's average organic post reach which was 5.2% in 2020. Clearly, email is the winner in this instance. Review the statistics for your industry on to see how you compare to your competitors.
Now that I have convinced you that email marketing is a critical tool in your arsenal, here are 5 tips on how to get the most out of your email campaigns.
5 WAYS TO IMPROVE YOUR EMAIL MARKETING
1. List Hygiene
Have you implemented double opt-in? Are you using a standard Email Service Provider (ESP) that incorporates an unsubscribe feature? How often do you clean your list?
How you build and manage your email list is critical to its health. Single opt-in provides a better user experience, because it is easier to sign up. But double opt-in, in my opinion, reflects a more committed subscriber and is better for your lists health as subscribers are more likely to engage with your content.
This is important because sending emails to inactive members will create deliverability issues. Internet Service Providers (ISPs) such as Hotmail, Outlook, Yahoo and Gmail, use engagement as a metric for deliverability. If a high percentage of subscribers never open your emails, it increases the probability of emails not reaching the inbox in the future i.e. going to spam folders. An option to prevent this is to try re-engagement tactics (a discussion for another day 😊) and if that fails, you should remove those contacts from your database.
Finally, if your business targets international subscribers, you must comply with anti-spam legislation such as GDPR and CAN-SPAM.
2. Segmentation
Segmenting your email list allows you to send highly targeted emails to subscribers. Sending the right email to the right person at the right time is critical to achieving the business outcomes that you want. Targeted campaigns improve open rates and conversions. But determining the best way to segment your list can be a huge task and will vary by sector. However, a few simple ways to segment your audience are by demographics, location, email engagement, website behaviour and personal interests.
3. Subject line Optimization and A/B testing
Are you optimising and testing your subject lines? One way to improve your open rates, is using engaging subject lines. Your subject line must entice the recipient to share their precious time with you by pausing to open and read your email. Ideally, it should include a benefit for the recipient, be short and to the point.
Our ESP (Mailchimp) also allows us to A/B test subject lines. If your ESP offers that feature, you should use it. If not, there are free and paid 3rd party tools you can use to evaluate and optimise your subject line copy. Here is a free one which grades your subject lines based on several factors including power words, word count, emojis, positive and negative words used.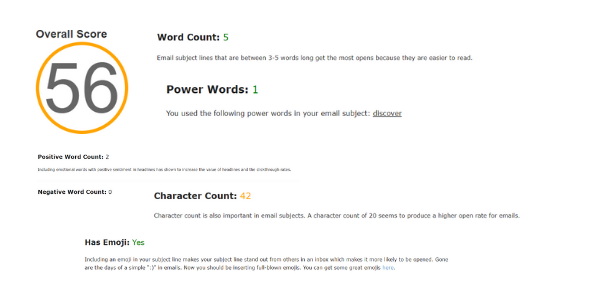 Whichever tool you choose, use it as a guide, as your copy must still be industry appropriate and in line with your brand voice.
4. Email Automation
I have subscribed to a diverse range of email lists, and even though most send a Thank You email, few take the opportunity to grab their audience's attention or encourage engagement. You have a great opportunity to share interesting content, like your most-read blog posts, or a coupon for a product or service you are offering.
At Caribbean Export we have updated our welcome blog automations to share some of our most popular recent posts. After all, a person signs up because they are interested in your business. Why make them wait a fortnight or longer to hear from you?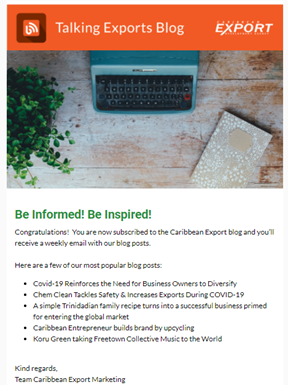 Most ESPs offer email automation which allows you to automate the sharing of content published on your website. The frequency, timing and style of the content are customizable and of course, the automation only sends if content is published. If you haven't used it yet, check it out, it'll make your life easier in the long-run!
5. Tools
Always be on the lookout for new tools to add to your toolbox as they can enhance your communications. One tool I really like is the count down timer. I use it with reminders for upcoming events.
For product sales, it can be used for limited time offers, sales alerts, etc. The countdown creates a sense of urgency and can be more compelling than just a Call To Action (CTA) button. The free version can be customised to reflect your branding, colours and fonts, or you could opt for the paid version to access additional features.
Think about how you can use this and other tools in your business to drive a desired action. Be open to testing new tools and dumping the ones that don't serve your business needs.
Email marketing is a great way to connect with your audience and build your customer relations. Take some time to critically review how you are managing and engaging with your email list.
Ensure that your processes are optimized and do not miss the opportunity to nurture this important relationship. Try out some of my suggestions for improving your email campaigns and let me know how you get on. Good Luck!
Connect with me on LinkedIn to share your thoughts and let's continue the discussion.