Hot pepper sauce is a staple in almost every Caribbean kitchen and every island makes it slightly differently.
Some use scotch bonnet peppers, others will only have habanero, while a few will combine the two; some recipes include vinegar while others prefer mustard; and some will add tropical fruit for sweetness, like mango or papaya, and others will call for sugar.
One thing is for sure though, no other condiment holds such sway over almost every West Indian household.
In 2014, Dominica-based entrepreneur Graceson John, started offering his own exotic twist on hot pepper sauce.
Graceson was working in catering and would create spicy sauces to compliment certain dishes. He soon realised how much people loved his unique concoctions, and started bottling his recipes under the brand name 'Big G', which is his long-held nickname.
Graceson recalls: "Cooking is a passion of mine so I love being innovative with flavours and switching up a recipe to make it my own. One day I was just working on a base pepper sauce and I decided to experiment with flavours like garlic, roasted garlic, turmeric, and pumpkin.
"I started off in my mother's kitchen using all her kitchen utensils and even coffee cups. I was looking for a certain consistency. At the beginning I had a lot of failure and threw lots of pepper sauce away because I couldn't get the right texture.
"In 2013 and 2014 I did some business training with the Dominica Youth Business Trust and I won a cash prize for my business proposal. I used that money to buy my first blender. Then I registered the business, had labels and a logo created, and we grew from there."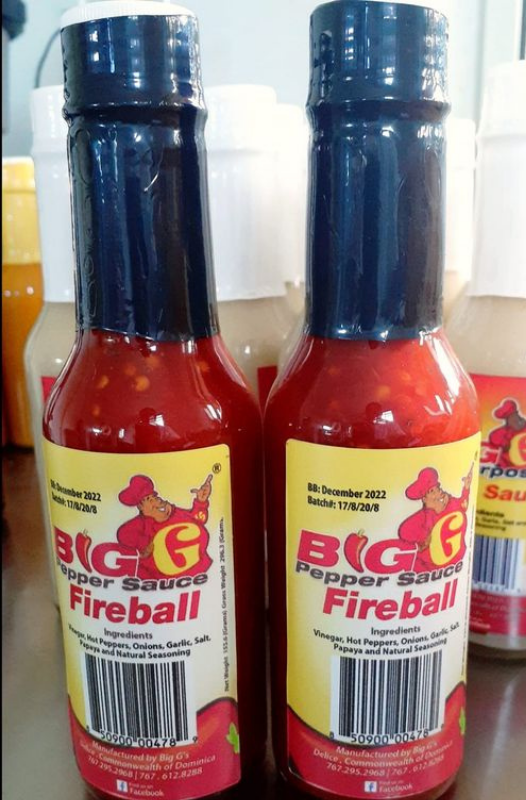 Fast Facts
• The global hot sauce market is projected to reach $5.9 billion (US) by 2025, with a compound annual growth rate of 5.2% (2020-2025) (Imarc group).
• By 2022, total sales of hot sauce in the United States is projected to reach 1.65 billion (US) (Statista).
• 75% of US consumers enjoy spicy foods to some degree, according to Mintel.
• Hot sauces are especially appealing to American consumers aged 18-34 (Technomic).
• In the UK, Caribbean sauces and condiments are worth £1.12bn, according to Caribbean Export's 'Absolutely Caribbean' report.
Graceson began selling 'Big G's Hot Pepper Sauce' on a small scale from a relative's restaurant, but within a year the product had become a regular fixture on almost every supermarket shelf in Dominica. However, he admits that the public were initially hesitant about his many variations on the standard recipe.
"Traditionally people aren't used to pepper sauce with those flavours and different colours," Graceson says. "Elderly people were especially sceptical because they think hot pepper sauce should always be red. But the public eventually accepted it and have supported me for the past seven years.
"We have over 20 flavours right now including coconut pepper sauce, cinnamon pepper sauce, ginger, mint and even coffee. We grow all our spices, herbs and seasonings and even some peppers as well, but we also purchase from local farmers in Dominica."
Graceson's business has been recognised locally and regionally and he has won five awards so far, including the '2015 Caribbean Regional Start-Up Young Entrepreneur' and 'Best Quality and Most Innovative Product in Dominica' in 2016.
Graceson has taken Big G's growing success in his stride. Production has kept up with demand mainly because of a "mini factory" constructed in his home village of Delices. While setting up the facility he received invaluable technical training from the Caribbean Export Development Agency (Caribbean Export) on Good Manufacturing Practice (GMP), and Hazard Analysis Critical Control Point (HACCP).
In addition, Graceson received a €1000 (Euro) grant which was put towards improving the processing area which had been devastated by Hurricane Maria in 2017.
Graceson reveals: "Just before Hurricane Maria I was building the processing area and we had just finished the plumbing and electricals when the storm hit. I remember going inside and everything was gone.
"It was discouraging because I'd put in so much money. But then I just thought about the people who died and those who lost loved ones. I picked myself up and started back over again."
Currently, many businesses in the region are also struggling with the COVID-19 pandemic, but Graceson says the global health crisis has not been too disruptive for Big G's because "people still have to eat".
Instead, he is pushing on with plans to establish a state-of-the-art factory in Dominica which will further enhance his production capabilities, improve standardisation through internal lab facilities, and create employment for at least five people.
He has also expanded the Big G's product range to include flavoured ketchups, barbecue sauce, salad dressings, and seasoning sauces.
Big G's is currently exported within the Caribbean region, but Graceson wants to reach out to the US, where he believes his sauces will appeal to the diaspora.
"I am trying to penetrate that market because America has a lot of Caribbean people," Graceson says. "People in the Caribbean like their pepper sauce and they will support you if they know you are from an island.
"We're looking at renting a small place in the US to manufacture the sauce but it would be ideal to find a large manufacturer to partner with because then I won't have to worry about health certificates. Some even already have deals with a distributor, who might also have links with supermarket chains, and once Big G's is in one store it could be seen across every state in America."
Graceson adds: "Big G's is my baby and eventually I want it to be all over the world. My passion and drive to succeed is what keeps me going. I want to develop my brand into something that makes me proud, so when I look back in 40 years' time I can say, 'yes, I did that'".