Henré Designs of Antigua redefined the meaning of fashion forward when their French inspired collection, "Madame", hit the runway at the recently concluded International Fashion Festival – Barbados Fashion Week held on 26-28 October, 2018.
           Stepping all the way out of the box to present a unique blend of trendy androgynal wear, Henré Designs was able to incorporate slight but perfect juxtaposing of female elements against male attire and vice versa. Remarkably, it worked!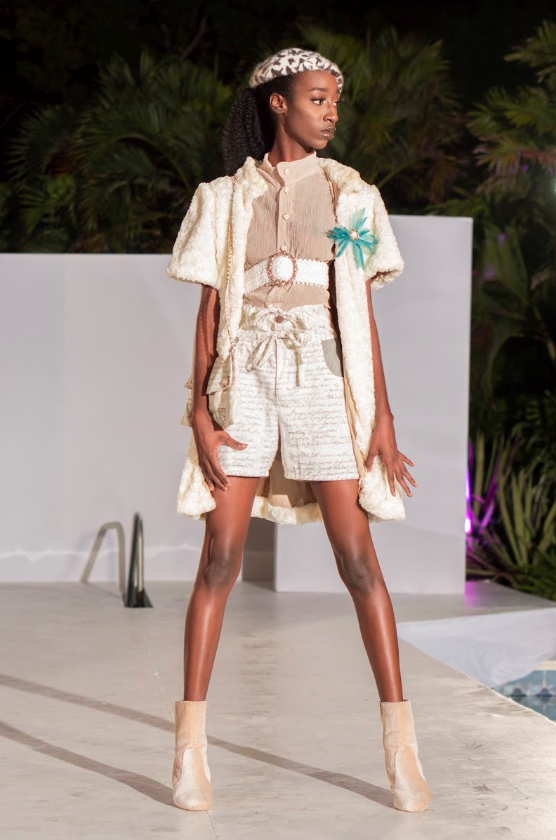 Henré Designs, which was represented by Shem Henry and Demarley Davis, was amongst a group of Caribbean designers who participated in the event through the support of the European Union's 11th EDF Regional Private Sector Development Programme (RPSDP), an initiative currently being implemented by the Caribbean Export Development Agency.
They showcased their Madame collection to a captivated audience, which included international buyers and fashion experts: Sharifa Murdock, co-founder and owner of Liberty Fairs and founder of Envsn Festival; Channing Hargrove, fashion writer for Refinery 29; Hillary Joseph, Director of Cabaña Swim, consultant on Fashion for Brazil and swimwear buyer for Nads Swim; and Ronny Oppong, Global Retail Relations Director for Liberty Fashion & Lifestyle Fairs.
Shem, the spokesperson for Henré Designs, explained that the collection was " a blend of French silhouettes along with androgyny". We really played with a lot of feminine style to the male pieces and we gave some of the female pieces male qualities. The pieces this evening were inspired around the theme Madame, which is French, bougie, very high-end, very classy and gives a very chic look. That is the image we wanted to project," he added.
Pointing out that Henré Designs had recently rebranded, he said the duo thought this was the best way to feature what inspired them and their target market.
"We have always been driven by French silhouettes, designers, the culture, the music, the lifestyle so that drove us to create the line. We used broches, bows and berets to represent the French style and to soften the pieces so they weren't hardcore French guys but rather, 'I am subtle, I am chic but I am also masculine'," Shem said.
Lauding the Caribbean Export Development Agency for its support, the Antiguan designer said Henré Designs has benefited tremendously.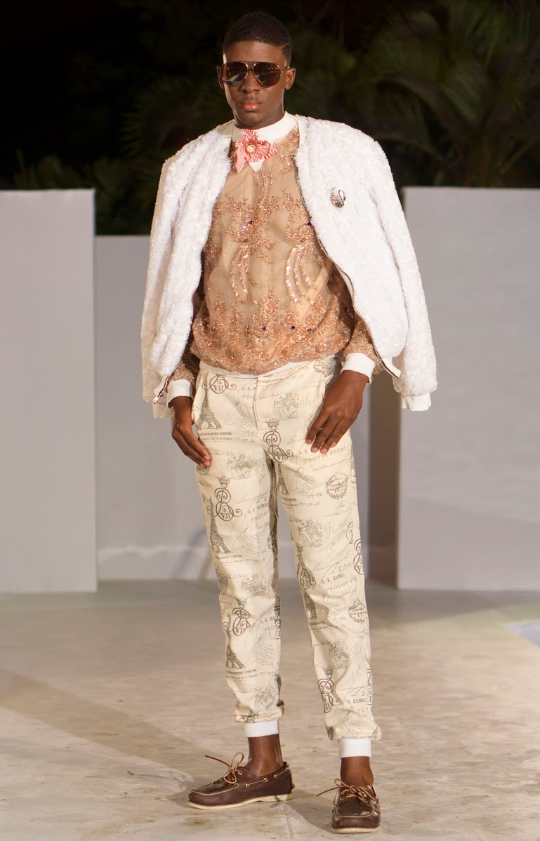 "Caribbean export has allowed fashion designers the opportunity to network, showcase their work and trade. Henré Designs has benefited from such opportunities and we will continue to nurture and strengthen the relationship between the two organizations," he noted.
In addition to featuring their work at the International Fashion Festival РBarbados Fashion Week, Shem revealed that the duo, representing Henr̩ Designs, also attended a workshop on the Business of Fashion facilitated by international fashion experts, some of whom had Caribbean heritage.
The experts included Ouigi Theodore, a Haitian designer who resides in the United States and is founder of the Brooklyn Circus, a retro-urban fashion boutique and label, and Stacey MaKenzie, a Jamaican born Canadian model and runway coach, who is famously known for judging and training models on America's Next Top Model and Canada's Next Top Model.
"The A listed team at that workshop touched, motivated and guided our small brand to new heights. My Caribbean brothers and sisters and my fashion mentors and guides, thank you so much for taking time out of your busy and hectic schedules to work a little magic on Henré Designs."
He added: "The Caribbean Export has been very instrumental in our small business by allowing for learning and workshop opportunities which has helped with the business and creative aspects of our business . The initiative has really brought Caribbean Designers together and hopefully will allow growth economically within the fashion sector."
Shem said Henré Designs comprised a group of young male designers who "really go against the grain and against what is normal". Their goals include exporting to regional and international markets.
"Most of the pieces may look like they are for the American and European market but they are pieces you can wear in the Caribbean, you just need to know how to do it," Shem said.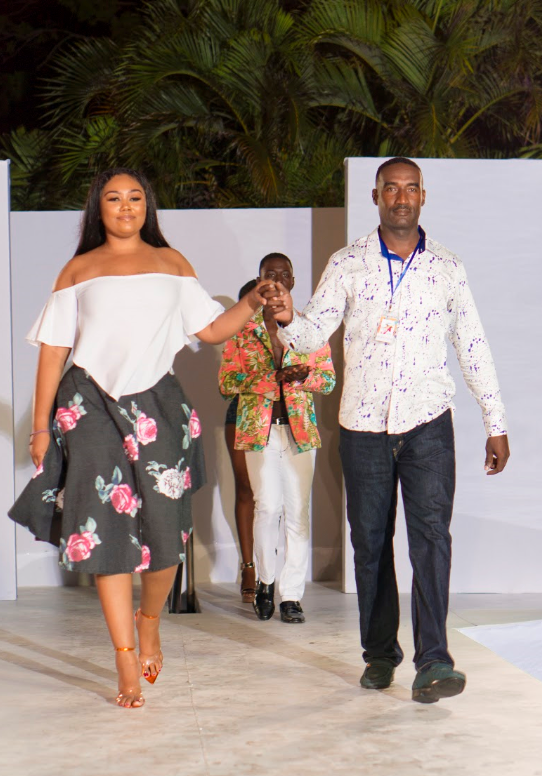 Also featured at International Fashion Festival – Barbados Fashion Week was a collection entitled Butterfly Alumni and Jahlee Jeans by Barbadian designer, Roy Thompson.
His garments were a combination of men and women's resort wear and featured floral prints, whites and denim. His dresses were styled with cold shoulders and frills at the ends of the sleeves. His full figured female attire comprised a white off the shoulder top and a bouncy floral skirt, which were designed to complement the best assets of a woman's body.
His men's jackets and jeans were clean cut and appeared comfortable and trendy. These featured minor embroidery details, especially on the pants and jackets, which really stood out and lent some elegance to the finished product.
Roy disclosed that he was invited by Caribbean Export to showcase his line in the show and explained that he intended to work with the Agency so that he could fulfil his dreams to expand his brands and have the lines carried in local and regional stores.
"My greatest desire is to broaden my horizons and get into the Caribbean markets. My passion has always been denim and I want to continue that trend because many designers aren't into it. It's my intention to create denim garments and even make traditional garments that usually use regular material, but in denim," Roy said, adding he had already made a denim bridal gown.
Other designers who participated in the International Fashion Festival РBarbados Fashion Week and received support from the Caribbean Export Development Agency were: Kristin Frazer of Tortola in the British Virgin Islands; Indira Moss of The Bahamas; David Andr̩ of Haiti and Kimya Glasgow of St. Vincent and the Grenadines.
Caribbean Export is committed to the development of fashion within the region. The agency provides opportunities for emerging and established Caribbean designers to receive technical assistance, business coaching, training and market and export development. (SP/Caribbean Export)