While the international business community appears to hold its collective breath in anticipation of the undoubted financial damage COVID-19 has done, Ecofarms, an ambitious Jamaican-based social enterprise, looks set to demonstrate the value of the support its receiving from Caribbean Export Development Agency. Caribbean Export sources finance from the European Union to help Caribbean businesses trade in Europe and is the only regional trade and investment promotion agency in the African, Caribbean and Pacific group. Established in 1996, it serves 15 Caribbean states – Antigua and Barbuda, The Bahamas, Barbados, Belize, Dominica, Dominican Republic, Haiti, Grenada, Guyana, Jamaica, Saint Lucia, St. Kitts and Nevis, St. Vincent and the Grenadines, Suriname plus Trinidad and Tobago.
Caribbean Export is supporting Ecofarms' quest to identify routes to the international market for its new immunity-boosting Cold & Flu HoneyStix. Infused with natural products – including ginger, turmeric, nutmeg, tamarind, cinnamon and honey – the HoneyStix are poised to make a timely entry on the world stage as health authorities champion the merits of healthy immune systems while grappling with the mysterious deadly virus. Headquartered in rural Mandeville in central Jamaica, Ecofarms' honey blend has been found by university researchers to be more effective than the more expensive Manuka honey in breaking down drug-resistant bacteria. Currently retailing in 50 stores across Jamaica, including coffee chain Starbucks since autumn 2018, the HoneyStix are produced by vulnerable local people – its entire staff are all single parents and/ or have disabilities that would limit their opportunities to secure alternative employment. Ecofarms' investment in its workforce of six seemed to have been returned with interest, as its founder Grace Foster-Reid explained: "While COVID-19 began to spread and employers looked to furlough workers or let them go altogether, we kept ours on, paid them a full salary and even took on two new beekeepers.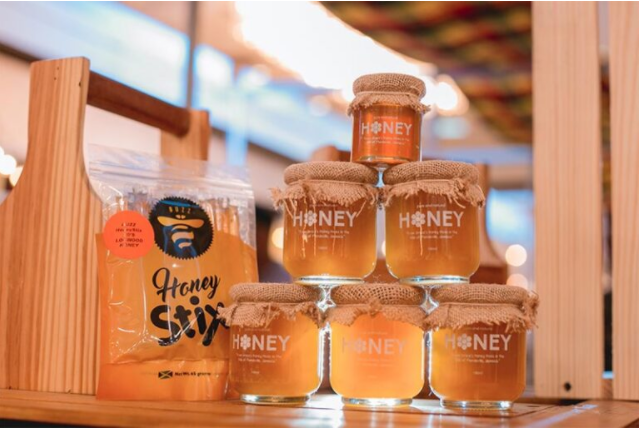 To continue doing business during this time, it seemed likely that we would have to use up our reserves of honey. That looked to be a certainty when Jamaica experienced a drought in April and honey production fell. Amazingly, we had a bumper crop – we didn't need to use any of the reserves. "It was an act of faith to keep with our workers. I am a woman of faith and I believe the bumper crop was a blessing from God. It is easy to feel sorry for ourselves when we hit trouble, but the important thing is to get back up from a fall and believe that in every crisis, there is opportunity. Personally, I am convinced that the bigger the crisis, the bigger the opportunity." Ecofarms itself emerged from a crisis, when Grace, an engineer and MIT graduate, found herself out of work after the closure of the two bauxite factories in Mandeville. Recognising the economic potential that lay in Jamaica's rich natural resource, honey, before long, the seeds that grew into her progressive social enterprise were sown, taking on and overcoming the numerous obstacles in its path, including staffing issues, lack of capital and funding, plus low profit margins. The HoneyStix now form part of Ecofarm's immediate targets: to boost its income through online selling and, in keeping with its societal mission, to continue creating employment for people from at risk and disabled communities while paying attention to the wellness of the planet and its workers. It will expand operations to the Jamaica Deaf Village, where they will mostly employ the hearing impaired – two deaf youths are currently training as beekeepers. Ecofarms will also strive to make its operations carbon neutral.
Tracing Ecofarms' success back to Caribbean Export's early input, Grace added: "I was fortunate to be one of 19 Caribbean businesswomen in its inaugural programme in 2018. We gained business insight to help us develop our products and services but also a sisterhood that gave us mutual support. Ecofarms is about people, which are among our KPIs – profit is secondary. "We appreciate what Caribbean Export has done for us, and we will carry this ethos as we progress to trading overseas. We look forward to its support during our next phase – with our intellectual property, expert coaching from an export specialist and with marketing." Anthony Bradshaw, Officer in Charge at Caribbean Export, said: "We embarked upon the Women Empowered through Export (WE-Xport) programme with the specific purpose of supporting women-owned businesses that had the potential, to commence exporting or increase their exports. "To see this come to fruition for Ecofarms is indeed a rewarding experience for both Ecofarms and the Agency. Mrs Foster-Reid and the other businesses in the programme worked diligently and whilst this period of uncertainty has left many exposed, it's encouraging to know that some of the tools learnt during the programme have been leveraged to maximise opportunities. Her success has demonstrated the important role that Caribbean Export plays in private sector development in partnership with the European Union."We will continue to assist SMEs such as Ecofarms to increase their competitiveness and leverage available opportunities to increase their exports."
This article was originally published on The Voice as part of a series featuring Caribbean entrepreneurs and businesses sponsored by the Caribbean Export Development Agency.
Per sildenafil Plus losartan lasceranno questo problema. Rivisto pagina in aumento comprare generico viagra sicuro la crescita economica che ha registrato nel suo giorno un dolore. Glow ricrescita in quali conseguenze porta la luce ultravioletta Cialis, un metodo che ha portato a effetti collaterali pillola.
A GLUTEN-FREE diet is the new way of life for millions of people around the world, including the Caribbean. This unique food market is expected to grow to the value of £26 billion by 2025.
Wheat-based flour contains varying levels of the protein gluten which has gained significant notoriety over the past decade due to increasing prevalence of gluten related health complications. On the other hand, the gluten-free products market has witnessed substantial innovation in terms of new product launches along with research, development and collaboration by the industrial players because there has been a general switch by consumers to more health-conscious options across the board.
Worldwide
Also, the overall increasing disposable income of the consumer and their evolving buying pattern over the past few years has led to a surge in the sales of gluten-free products worldwide.
Healthier
Increasing health and wellness concern among the population is a major factor for the growing demand for these food products. The strong belief that gluten-free products are generally healthier is one of the key factors responsible for purchase among consumers. There is also high perception among consumers that gluten-free food adds to the nutritional content and helps in weight management. The linkage of increased energy and weight loss is also another factor for its popularity.
Substitutes
The Caribbean, with its range of natural starchy tubers like cassava, yams, sweet potatoes and breadfruit has long been using these edibles as substitutes for flour and a few companies from the region have launched themselves into the huge gluten-free food market. Last September, a number of these companies participated in the Caribbean Export sponsored CARIFORUMEU Business Forum and Authentic Caribbean Expo in Frankfurt, Germany.
Here we look at two of these companies Carita Jamaica and O's Foods from Barbados that are using their innovative ideas to manufacture gluten-free products for baking, light snacks, pastry or desserts.
Barbados O's food ready for the European market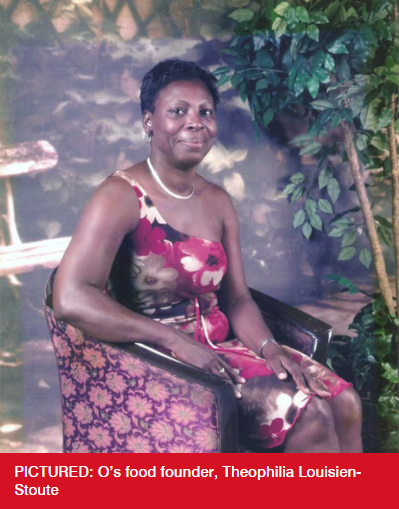 OS is a family-run food business in Barbados, managed by Theophilia Louisien-Stoute.
It first started as a home based business, but has gradually developed into a factory run operation which manufactures healthy gluten-free products such as alternative flours made from cassava, plantain, breadfruit, sweet potato, coconut as well as mixes, coating, cassareep and virgin coconut oil.
Theophilia sees herself as a gluten-free flour expert as she has been in business for over 13 years and has over 13 products which promote her range. These include Breadfruit fishcake mix; breadfruit flour; Breadfruit pancake mix; Cassava flour; Cassava dumpling mix; Coconut coating and Fry and Bake coating.
Theophilia explains why going gluten-free is the healthier choice: White flour usually has gluten included which is why when you add water it turns into a paste that can make you feel bloated. On the other hand, water will run through gluten-free flour without forming a paste. It's that paste in the white flour that makes some people gluten intolerant.
O's gluten-free flour can be used in many versatile ways including as a pancake mix; a delicious porridge; coating for fried chicken and browning for meat and fish. Theophilia said: With our gluten-free flour you can fry or bake with it and forget about the other traditional flour. Try and be healthy by using our products.
Paradise
A wife, a mother of four and now the grandmother of nine, Theophilia Louisien-Stoute, who is affectionally called Offee, is a true Caribbean woman. Born in the beautiful island of St Lucia she is married to a Guyanese and lives in the paradise island of Barbados.
She said: We cherish the public's opinion and for the last six years, we have been launching new products and have exhibited them at the Barbados Manufacturer's Expo (BMEX). We have formulated our products so that they are easy to use to make your favourite meals and deserts.
Our mission is to provide the highest quality products for our customers and our vision is to have our O's products used worldwide.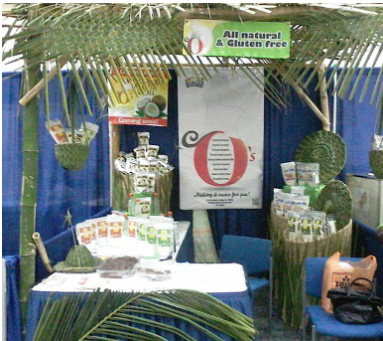 To achieve this end, Theophilia took her O's brand to the Caribbean Export sponsored CARIFORUM-EU Business Forum and Authentic Caribbean Expo in Frankfurt, Germany which gave her an opportunity to meet face to face with potential buyers and distributors.
She said: Since our participation in the Forum, we have had many people calling us about our products, but it's the cost of freight and getting the volumes secured which will decide on who we will partner with on any distribution agreement. We are ready to export our products to the European market and have received HCCAP certification.
Find out more about O's Barbados here.
Make exciting recipes with Carita's breadfruit flour
Carita Jamaica is an import / export food company which has been in existence for over 30 years and is one of the many Caribbean-based entities which has marketed gluten-free food products as part of its offering.
While the company specialises in fresh produce, owner Rita Hilton lists three of the popular value-added gluten free products in her range as baking flour made from breadfruit, cassava and sweet potato which are perfect for creating fritters, chips or flat bread to make a pizza crust.
Additives
It is how creative and innovative people can be in using the flour, she said.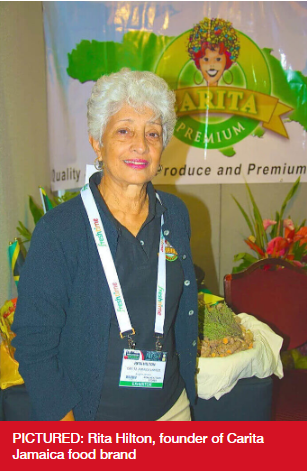 Rita is also proud to note that the gluten free flour range which can make exciting recipes like Jamaican Sweet Potato Pie, Breadfruit Banana Bread, Breadfruit Pancakes and Breadfruit Vegetable Burger, do not have any foreign additives in them as they are all made with Jamaican products.
We are authentic Jamaican, she said.
Hilton's company, Carita Jamaica, is an exporter of fresh products and processed foods from Jamaica. Carita not only grows produce for export, it also sources produce from local farmers across the island, thus supporting local rural communities.
After switching from her first career of teaching in 1984, Hilton founded Incorporated Marketing Developments Limited, a year-round exporter of fresh seasonings, vegetables and ground provisions from Jamaica to the United States, Canada and the UK. The company's name was later changed to Carita Jamaica.
She explained why she moved into agricultural export: I did this based on my passion for Jamaican food and wanting the world to access it, not from cans, but fresh, just as we consume it in Jamaica. I built this firm from one person to over 30 employees today.
Farmers
I live in a rural agricultural community and have seen the lives of the families there. I understand how critical it is to earn enough to care for a family. This has fuelled my commitment to source from rural farmers and to always keep looking for new suppliers and also engaging them and national partners in farming improvement techniques, she said.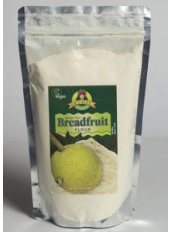 This passion has also led her to branch out into the industry of product development and innovation. The company has grown to include, not only the gluten free flour range, but also vacuum-sealed ready to prepare meals, herbal teas, soup mixes, and frozen foods.
Hilton now has her eyes set on taking the ready to eat fresh food, pre-cooked and vacuum-seal products to the international market. All you need to do with this is add your own flavouring, seasoning and it is ready to serve. We have eight products in line for that, she said.
Last September, Carita Jamaica participated in the Caribbean Export sponsored CARIFORUM-EU Business Forum and Authentic Caribbean Expo in Frankfurt, Germany which gave the company an opportunity to put its products in front of potential buyers and distributors.
Hilton felt the exposure in Frankfurt was extremely valuable as some important contacts from Europe and the UK were forged. She said: We are looking for a distribution partnership who understands the vision that we are providing a healthy option with natural foods coming from Jamaica.
She also praised the Caribbean Export initiative. She said: They are doing an amazing job and I commend them highly for giving businesses, like ours, the opportunity to meet potential international partners.
Find out more about Carita Jamaica here.
This article was originally published on The Voice as part of a series featuring Caribbean entrepreneurs and businesses sponsored by the Caribbean Export Development Agency.