Transforming a brand into a household name is not easy.
You need a product that is almost universally liked; a track record of innovation and reliability; a reputation for excellence; and a deep connection with your customers which earns their loyalty and trust.

In Suriname, there is one brand that has ticked all of these boxes and more – Wippy peanut butter.
Produced by the Willemsberg family since 1980, Wippy was the brainchild of Clifton Willemsberg, whose father Leonel originally started a business in 1961 to trade in various food items including white sugar and shelled peanuts.
When some items became less profitable the company needed to diversify. Clifton suggested manufacturing peanut butter because they had been working with local peanut butter producers for years, and also already had easy access to a high quality raw material.
The name Wippy was chosen and an eye-catching green parrot named 'Willy' (derived from Willemsberg) was conceived as a mascot to boost marketing and promotion.
Wippy peanut butter soon won the hearts of the Surinamese people and is currently sold in over 1,500 shops and supermarkets across the country.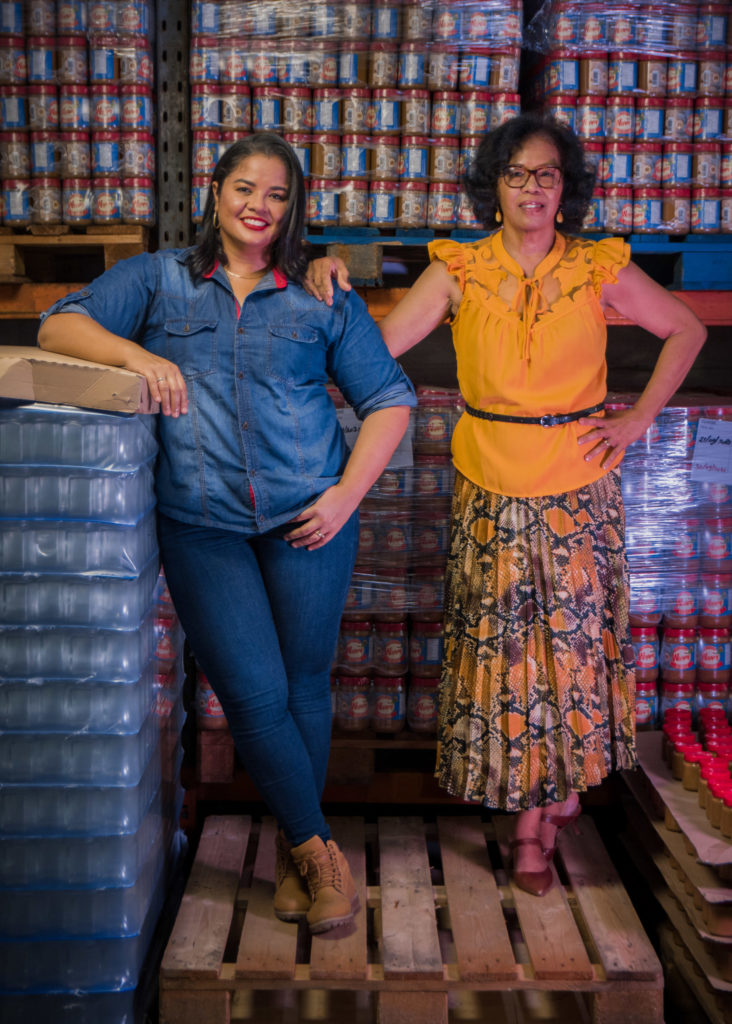 Now, more than four decades since the first jar rolled off the production line, the company is managed by Leonel's daughter Susan Tjong A Hung-Willemsberg and her niece Genevieve Radjiman-Willemsberg (Clifton's daughter) who is getting ready to run the business.
Susan believes Wippy has remained popular over the years mainly because it has stayed true to its main objective which is to produce top quality peanut butter with natural ingredients.
We don't have just one but many unique selling points, Genevieve adds.
We have a minimum of 95% and a maximum of 97% of roasted peanuts in our products. We have no cholesterol or trans fats. The product is packaged in glass jars which keeps it fresh and tasty and guarantees a longer shelf life. We also have a spicy version and our diet line is vegan friendly.
Product innovation has undoubtedly helped to keep Wippy ahead of its competitors. There are now six types of Wippy peanut butter on the market including classic, crunchy, and hot. The sugar-free version, which is sweetened with all-natural stevia rather than sugar, was introduced mainly because Susan is diabetic.
Wippy has also been successfully exported to French Guinea, Barbados, and the Netherlands. Susan says the Caribbean Export Development Agency (Caribbean Export) was particularly instrumental in helping Willemsberg get into the European market (although exports to the Netherlands are currently on hold).
She states: When we wanted to get into the Netherlands, Caribbean Export's consultants helped us with marketing, training with labelling, research for potential distributors, and trademark registration.
Susan and Genevieve also recently met with a distributor based in Guyana and they have some advice for Caribbean businesses who are trying to export.
Susan suggests: If the company is ready for export, they should take the time to look for a reliable and capable distributor.
Do your homework with regards to the new market. Know your consumers, focus points, their preferences, and which marketing strategies you should use. When you have all this information than you are more than 50% on your way to success.
Genevieve adds: We all want to make more sales for our company. But it is equally important to make these sales with the correct match. Producer/distributor relationships aren't any different from other relationships. It's all about teamwork. The producer delivers quality goods and the distributor promotes and sells these goods accordingly.
Maintaining production capacity to fulfil local and export demands is one of Willemsberg's major challenges, and this was recently made worse during the COVID-19 pandemic when 13 out of 30 staff testing positive for the virus, causing a shutdown of the production facility for five weeks.
The closure led to a total loss of almost $93,000 (USD) in 2021 and $52,000 (USD) of that was from a decrease in sales. The rest of the loss consists of operating costs, employee costs, and rent, Genevieve explains.
She adds: At the moment, 71% of our employees have been vaccinated, but 29% are still not cooperating. It is a big challenge to get the remaining group on board. Conspiracy theories and religion play a huge role in their decision making. It is also a challenge to recruit new employees who are vaccinated.
Meanwhile, the Willemsbergs remain focused on sustaining Wippy peanut butter's position as one of the leaders in its market. Their short term goals include improving factory productivity; increasing exports; continuing market research to better know their consumers and competitors; and developing a new product.
In the next three to five years, they are also aiming to build a new production facility, and are already scouting for a new location. They also want to buy new machinery after previous Caribbean Export grants went towards two new machines – a shrink tunnel that wraps bottles into trays and a double head filling machine.
Susan is also preparing to handover complete control of the business to Genevieve by the start of 2022. When asked how she feels about stepping aside, Susan states: I am sure that Genevieve will do her utmost. I'm going to train her on as much as I can and then she will do the rest.
Genevieve reveals that Susan has already set her a lot of homework before the final date arrives and says she knows that there is a lot of work ahead.
She adds: Susan has about 45 years of experience and you cannot buy that in any store. You have to have patience and stay open to all the guidance and training that she can give.
I am optimistic because it's a family business and we need to continue the family legacy.