The eye catching designs showcased at the recently held International Fashion Festival – Barbados Fashion Week could easily have been snatched from the runway and worn to the beach or to an upscale all-inclusive event!
The impressive fashion displayed by the regional designers was possible thanks to the Caribbean Export Development Agency (Caribbean Export) who supported their participation at the fashion showcase held on 27th October 2018 at Bellevue Plantation, Barbados with funding from the European Union via the 11th EDF Regional Private Sector Development Programme (RPSDP).
Among those featured was fashion designer Kristin Frazer of Tortola in the British Virgin Islands. She showcased her tenth anniversary collection Zion, under the fashion label Trefle.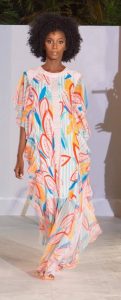 Describing her collection as "nice, easy and beautiful", it featured monokinis and flowing dresses in colour choices ranging from coral to blue to red to lime green. The highlight of her capsule collection was an original print named Eustatia, after one of the islands in the BVI.
"We create all our prints; we've been doing so since 2015. That is something we decided to do to step out of the box and make us a little bit more eye catching not just for the local and regional markets but for the international market because we are export ready," she said, adding that she caters to wholesale and retail buyers.
"I really want to be able to stand out, especially coming from a small country with less than 30,000 people. So if I want to go international, I really, really got to stand out," she emphasized.
Worth mentioning is the impeccable fit of her swimwear, something she attributes to her strong sewing skills.
"Well I am a seamstress first then a fashion designer. When I design I try to think about different body types… I am not only catering to Caribbean women, I am catering to European women when the tourists come down. I am catering to the American woman so I try to design things to fit all the body types without stretching myself too far.
"A swimsuit is a swimsuit, but because I am a seamstress I try to engineer the best way to make sure a swimsuit truly fits and not just truly fit a size four and size six. The swimsuits that I do start at size four and go up to size 20. I also add what is called high powered mesh for tummy control to provide more support. I don't use any underwires, I use soft foam paddings so your nipples don't show through. I try to come up with those little details that matter and that count so when a woman puts on a Trefle swimsuit, she really feels comfortable and she's ready to roll… my swimsuits are a bit more conservative but they really help to make you feel empowered and beautiful, so I try to standout in that way," Kristin said.
Extending a "huge thanks" to the Caribbean Export Development Agency for its support, the fashion designer added: "It's really coming together in terms of trying to get Caribbean designers into the mainstream and international markets. I enjoyed the fashion workshop also so I really want to say thanks."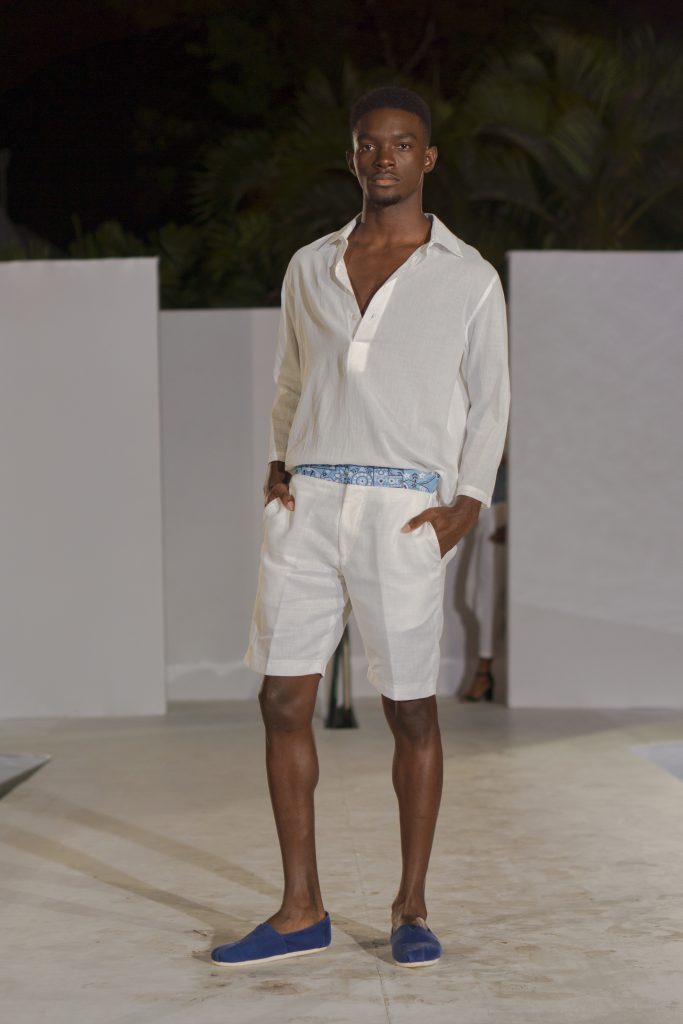 David André, an extraordinary fashion designer from Haiti, also saluted Caribbean Export. "They have been supporting me for ten years; it has always been a pleasure for me to come to so many places in the Caribbean to showcase my work, meet new people and get offers," he said.
David treated guests at the fashion show to a sneak preview of his 2019 collection. His capsule featured solid white cottons and linen. It carried a strong seventies vibe with short, mid-leg and long female pants, breezy shirts and cute dresses. The women's outfits were complemented with headwraps, which he said were inspired by a visit to Dakar, the capital of Senegal in West Africa.
His men's wear carried a refreshing look and featured jackets trimmed with a blue patterned material.
"The collection has a seventies vibe. It's very joyful, you can go to parties on Miami Beach or in Barbados for a soca festival. What is good with my line is that it is not limited to the beach or resort, you can wear them all year long. You can mix them with other pieces because it's very flexible," David said.
Caribbean Export also lent support to fashion designers Kimya Glasgow of St. Vincent and the Grenadines; Indira Moss of The Bahamas; Roy Thompson of Barbados and Henré Designs of Antigua.
Fashion is a key element in the creative industry and Caribbean Export Development Agency has been instrumental in providing technical assistance, business development support and access to finance to regional designers. (SP/Caribbean Export)