THERE IS no question in that the cosmetic industry is growing at an exponential rate which makes it hard not to notice the boom taking place at the perfume and body care counters in major retail stores on the high streets as well as supermarkets shelves across Britain.
Around 50 per cent of British consumers favour cosmetics made from natural ingredients, the highest figure in Europe. In 2018, sales of certified organic and natural beauty products grew for an eighth consecutive year to reach £86.5m, up 14 per cent on the previous year.
Because the sector is currently growing at an annual rate of 8-10 percent, this has spurred increasing demand for natural ingredients and it is no surprise that in the past year exports of essential oils from the Caribbean to the EU have grown by 33 percent.
The Caribbean is not only famous for its beautiful beaches and rum but also for the natural ingredients produced in the region and this where a number of innovative Caribbean entrepreneurs are capitalising on a niche in the international market place.
Damie Sinanan, the competitiveness and export promotion manager of the Caribbean Export Development Agency (Caribbean Export) said: "Apart from the health benefits of these essential oils and other natural ingredients many Caribbean companies sell in the EU, they also work hard to make products as sustainable as possible, from production to packaging, with the aim of not generating waste or harming the environment", comments Sinanan.
Last September, three such companies participated in the Caribbean Export's 4th CARIFORUM-EU Business Forum and Authentic Caribbean Expo in Frankfurt, Germany which gave Bahama Spa, Sugar Town Organics and True Shades Cosmetics the opportunity to put their products in front of potential buyers and distributors.
Here we look at these three Caribbean companies, all headed by women, that are making their mark on the natural cosmetic industry.
BahamaSpa products made with love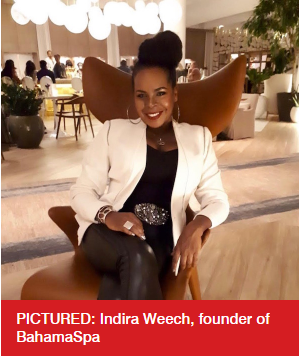 BahamaSpa, founded by Indira Weech and established in 2004, manufactures luxurious bath and body line of products handmade with love in paradise, inspired by the vibrant culture, beauty secrets and the natural beauty of The Bahamas.
The BahamaSpa brand is sold at upscale boutiques, resorts and spas and the products are made with various edible ingredients and powered by sea salt and ocean water harvested from the pristine waters of The Bahamas.
Opportunities
Indira says the aim of her enterprise is to protect women from harmful chemicals, provide job opportunities and teach new skills to women. "We are a 90% female owned business", she says.
"Our products are made from the very finest from the land and sea. They are perfect for the spa and salon markets and do excellent in retail in the souvenir and gift market as well…we are the perfect gift!
"Our business was started to provide a sustainable yet upscale gift for the tourism industry. We began our journey with a soap and due to demand we expanded our product offering to become a full line of spa and wellness products.
"In 2020 we expanded and added a subscription box service and a line for hair care and products for the home. We have private labeled products for an exclusive resort," Indira explains.
BahamaSpa has been featured on ABC's Good Morning America and in international publications. Just this February, BahamaSpa was chosen as an exclusive gift for the celebrities at a 2020 Oscar Awards after show party in Los Angeles, Califormia.
The international exposure for the company is also growing as Indira indicates: "We are also honoured to be chosen as the fi rst product to represent The Bahamas at the 2020 World Expo in Dubai later this year because of our commitment to excellence and our sustainability mandate."
Among the BahamaSpa product line are: Mango Sugar Scrub, Ocean Water Soap On Rope, Sandy Feet Soap Scrub, Sea Salt Soap, Island Man Sexy Hand and Body Chantilly Cream, Ocean Bath Bar and Coconut Tart Hand & Body Cream.
Outstanding
Indira said her participation at the Caribbean Export's 4th CARIFORUM-EU Business Forum and Authentic Caribbean Expo in Frankfurt, Germany Expo was and outstanding experience. She said: "There are so many people who came to our stand and bought all the products we had and I still get request now from people who wanted to re-order. Many said they were drawn to the stand because of the alluring aroma from the products."
Indira is looking to expand her BahamaSpa product line in luxury markets globally, particularly into England, France, Spain and the Netherlands, so she is actively seeking strategic partnerships, distribution and retail opportunities.
For more information visit: www.thebahamaspa.com
Your True Shade just for you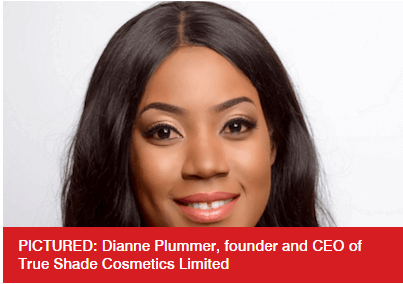 Dianne Plummer is the founder and CEO of True Shade Cosmetics Limited, producers of the uniquely Jamaican cosmetic brand 'Your True Shade'.
It is Jamaica's first natural make up line and the company was incorporated in August 2015, but the idea to create the line came from Dianne's own experience while studying overseas back in 2011.
Sensitive
The Chemical Engineer graduate had embarked on a journey to pursue Master's degrees in Sustainable Energy and Mechanical Engineering.
While there, she faced a major issue in finding cosmetic products that both matched her skin tone and was delicate enough to not aggravate her sensitive skin and eczema. In the absence of suitable products, she did what any good Chemical Engineer would do: She made it herself and that is how "Your True Shade" was born.
Cosmetic
Seeing the potential in her products, and based on constant requests from friends, she decided not to keep it to herself. What started out as an act of necessity led to a viable profit-making endeavour with Your True Shade cosmetic line which is becoming available at pharmacies and beauty supplies stores in Jamaica.
Dianne says her vision for Your True Shade is to be a trailblazer in natural cosmetics dedicated to creating healthy products of the highest quality.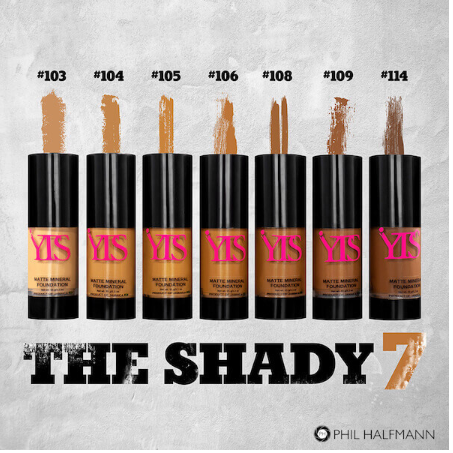 "YTS is manufactured for women of colour and provides the shades that typically women have a difficulty in finding. What's different too is the type of ingredients. We use natural minerals, aloe vera, shea butter, things that people who have sensitive skin can feel comfortable using. We are also certified by Cruelty Free International so people who use vegan products can be comfortable using our products," says Dianne.
Speaking about her participation at the 4th CARIFORUMEU Business Forum in Frankfurt, Germany last September, Dianne said she reached out to a lot of fashion designers, models and other influencers and she was able to establish on going links in marketing YTS products in Germany.
"I am really focused on the international market and I have linked up with Sugar Brown Cosmetics in Finland to do private labelling for them and also make-up classes. The market for YTS is for those persons who are having a challenging time in getting make up and skin care products suitable for them," Dianne said.
For more information visit: www.yourtrueshade.com
Sugar Town ventures into food and cosmetics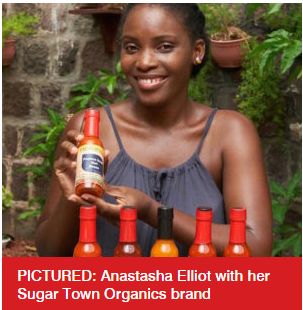 Sugar Town Organics is an agro-processing company based in St Kitts and Nevis headed by Anastasha Elliot. It was formed in the 2004 to craft edible goods as well as cosmetics, using agricultural produce grown within the Caribbean with a focus on its island home.
The company uses traditional techniques in its formulations to craft unique products inspired by the twin island's culture and history.
Unique
Anastasha Elliot said the company's primary aim is to "offer a unique wellness experience for men and women, with a dedication to providing the highest quality of healthy foods and cosmetics infused by our culture, ingenuity, innovation and originality."
Sugar Town Organics currently provides products in four ranges.
Hair care which covers shampoo, conditioner, leave in conditioner, hair growth serum, hair butter and hair oil for natural or processed hair and also for locks. Skin care using herbal soaps, face wash, face toner, face serum, night facial oil, face crème and eye crème.
Portfolio
Body care comprising lotions, deodorant and perfume spritz. A new baby line has now been added to their portfolio.
Anastasha, who runs the business alongside her mother, says the company is built on a family legacy of healing through nature, utilising food to aid continued health and heal from diseases.
Europe
Reflecting on taking part in the Caribbean Export's 4th CARIFORUM-EU Business Forum and Authentic Caribbean Expo in Frankfurt, Germany. In Frankfurt, Germany last September, Anastasha said: "It was your first time being that far to Europe and to an event of that nature. It gave me a wonderful insight into what people on the ground are looking for and also gave me knowledge of some of the charges that can be incurred if your products are in plastic instead of renewable packaging. It gave me valuable access to information like that. "Caribbean Export's help has been quite invaluable for our business as they have given us exposure to different markets which we could not have done on our own," Anatasha said.
For more information visit: www.sugartownorganics.com/
This article was originally published on The Voice as part of a series featuring Caribbean entrepreneurs and businesses sponsored by the Caribbean Export Development Agency.