St Lucian entrepreneur Gidden Augustin always dreamed of starting his own company after growing up on his parents' farm and seeing his father manage the family business.
Gidden initially considered a career as an architect but was "bitten by the IT bug" after completing his 'A' Levels in 1992 and landing his first job at Caribbean conglomerate J.Q. Charles Ltd.
"J.Q. Charles was the second largest enterprise in St Lucia at the time after the government," Gidden recalls.
"I worked in the fledgling IT department and helped to create and deploy the first Point-of-Sale system while we were computerising our processes and moving over from the old-fashioned cash registers. I had a good boss who inspired me, working with him really got me interested in IT."
Four years later, Gidden left his job to study Computer Science at the University of West Indies. He graduated with first class honours in 1999 and returned to J.Q. Charles as a Systems Administrator while building up his IT consultancy portfolio.
"I actually drew the logo for my business when I was still employed at J.Q. Charles because I knew that I did not want to spend my whole life being an employee," Gidden says.
"I was doing consultancy as a side business until 2005 when I went off on my own. I have to say that the first six months were rough, because I did not have an established client base, and I regularly asked myself "what was I thinking?". But eventually I got more clients through word-of-mouth."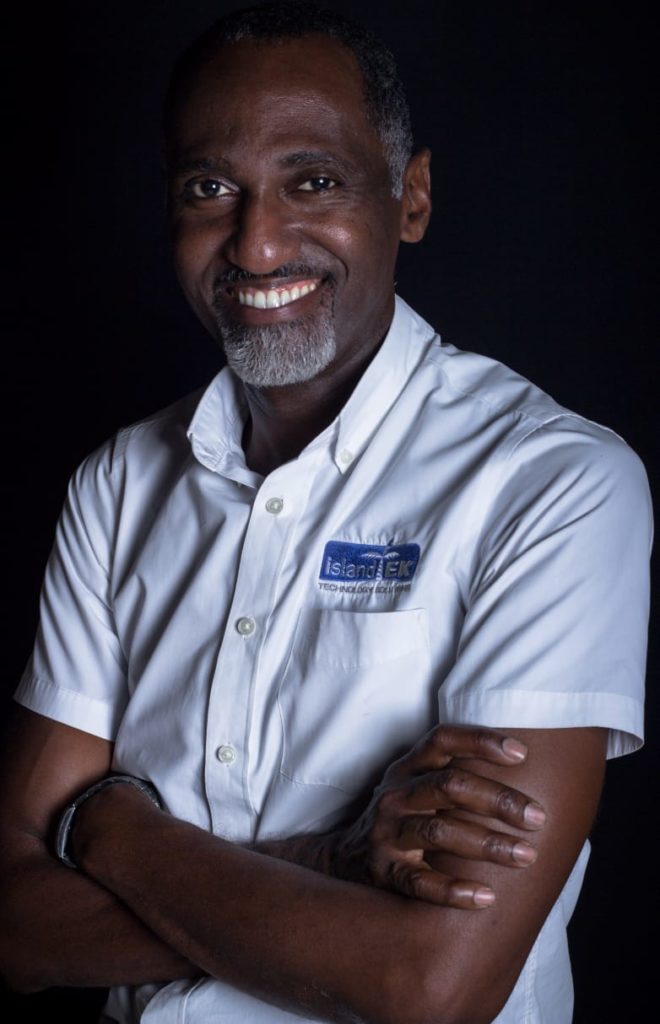 Fast Facts
• The ICT market is forecast to be worth over $5 trillion dollars (US) in 2021, and almost $6 trillion (US) by 2023 (Statista.com).

• The value of ICT services' exports worldwide reached $676 billion (US) in 2020 (UNCTAD.org).

• The ICT market is typically defined to encompass technologies related to both computer and telephone networks, along with relevant software, hardware and services (Statista.com).

• ICT services grew to almost 14% of total services' exports worldwide in 2020 (UNCTAD.org).

• The 2017 ICT Development Index compiled by the International Telecommunications Union (ITU), ranked St. Kitts and Nevis as the most technologically advanced country in the Caribbean region.
Gidden slowly built up a reputation for excellence through personal recommendations and officially registered his company, called 'islandTEK', in 2011.
Some of islandTEK's main services include wired and wireless network design; PBX system design; CCTV installation and maintenance; onsite and remote IT support; PC maintenance and repairs; and IT and project management consultancy.
Gidden, and his two part-time employees, aim to supply customers with "high quality, value-added technology solutions that enhance their productivity and competitiveness, and drive strategic business growth."
He adds: "We provide a service package that is custom-made and tailored to the clients' specific needs. Part of our ethos is that we do not compete on price but we compete on quality. So, we are not the cheapest but when we offer a solution it's for life. It's a permanent solution; not a stop gap."
Over the years, Gidden has worked with large and small residential and commercial clients, government departments, and international agencies.
One of his proudest achievements to date was serving as a consultant IT manager for the International Cricket Council (ICC) at the 2007 Cricket World Cup and the 2010 World T20 Cup in St Lucia. The St Lucia Ministry of Agriculture, St Lucia Distillers Ltd, and the Saint Lucia Air & Sea Ports Authority are also listed among some of islandTEK's customers.
Gidden's long-term goal is to position islandTEK as "the go-to, high-end IT services company in the region". He also aims to enhance his export capabilities after attending various workshops hosted by the Caribbean Export Development Agency, including the 'Services Go Global (SGG) programme,' which empowered him to "rethink my vision for the company and create a draft export plan".
In 2018, Gidden was selected by Caribbean Export to be part of a three-member delegation from St Lucia to attend the 8th Annual ALES Convention in Santo Domingo, Dominican Republic. This event created networking opportunities with Latin American countries and opened his eyes to what it would take to become a global player in the ICT and services sector.
Gidden has also been involved in the INTERREG Trade Enhancement for the Eastern Caribbean (TEECA) programme which is facilitated by the Chamber of Commerce in Martinique, the OECS Commission, and Caribbean Export.
He states: "TEECA encourages businesses in the OECS to do more business with companies in the French Caribbean territories and we're making some good connections with French companies through that programme."
Despite a recent slowdown in large-scale projects because of the COVID-19 pandemic, Gidden is hopeful that several initiatives in the pipeline will get under way in 2022. He says his short-term goal for the new year is to "get back into the black" and hire two more highly-trained employees.
Gidden's advice to Caribbean business owners, especially during this uncertain time, is "keep the faith" and "don't give up".
He adds: "Always go for small wins because that keeps your morale up and don't take 'no' for an answer because eventually someone will say 'yes'!"