For generations, Caribbean grandmothers have steeped and brewed indigenous herbs, roots and even bush, convinced of their ability to cure just about any ailment. When two young entrepreneurs in the twin-island republic of Trinidad and Tobago decided to pay homage to this tradition, not even in their wildest dreams did they imagine that their earthy concoctions would be dubbed among the world's most innovative foods.
Caribbean Cure, an award-winning tea company, draws from tradition to promote more naturally healthy lifestyles among those who sip their infusions. The company is one of only two in the Region to be shortlisted for a SIAL Paris 2018 Product Innovation award, which recognises those who help shape what we eat today, and tomorrow. They earned the selection for their indigenous ingredients, packaging, branding and the taste of their five infusions.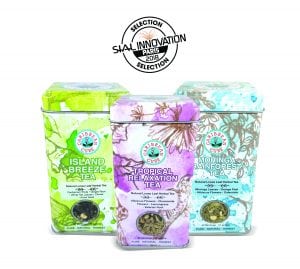 The awards will be held in Paris during the world's largest food innovation exhibition, from October 21-25, 2018, and attended by tens of thousands of food and beverage industry stakeholders. It's an amazing opportunity for Sophia Stone and Stacy Seeterram, the owners of Caribbean Cure. The company will receive immeasurable exposure from the shortlisting alone.
But getting to this point has not been without sacrifice and the determination to persevere despite numerous obstacles. After all, the mark of success is not the absence of failures, but choosing to press on in spite of them, relentlessly seeking ways to make the dream a reality.
BREWING A VISION TO CURE THE CARIBBEAN
Passionate about using nature to promote health and wellness, Stone founded the company in 2015.
"I wanted to honour our long history in the Caribbean of using herbs and bush teas," she said. "And backed by science, my goal was to make these healing remedies more efficacious, convenient and attractive to today's consumer."
What began as a small experiment quickly became an obsession. Consumed with ideas by the million, Stone was constantly in conversations with herself about how she could execute them, and also bombarded with reasons why they wouldn't work. But in spite of how impossible her dreams seemed, she could not shake them, and after months of agonising over the decision, she resigned her 9 to 5 for the full-time pursuit of her dream.
Success was not forthcoming with her initial line of eight supplements, and after depleting her savings, Stone was faced with two very clear choices, pack it all in and quit "dreaming"; or, find another way to make the dream work. Like any true entrepreneur, she chose the latter.
It was a choice made entirely on her own belief in her dream, because, as Sophia recalled, everyone, including family and close friends, with whom she shared an idea of making tea blends with the ingredients used in the supplements, thought it was a bad idea. They encouraged her to either try to make the supplements work, or close shop and find a "real" job.
WHEN THE GOING GETS TOUGH, THE TOUGH GET GOING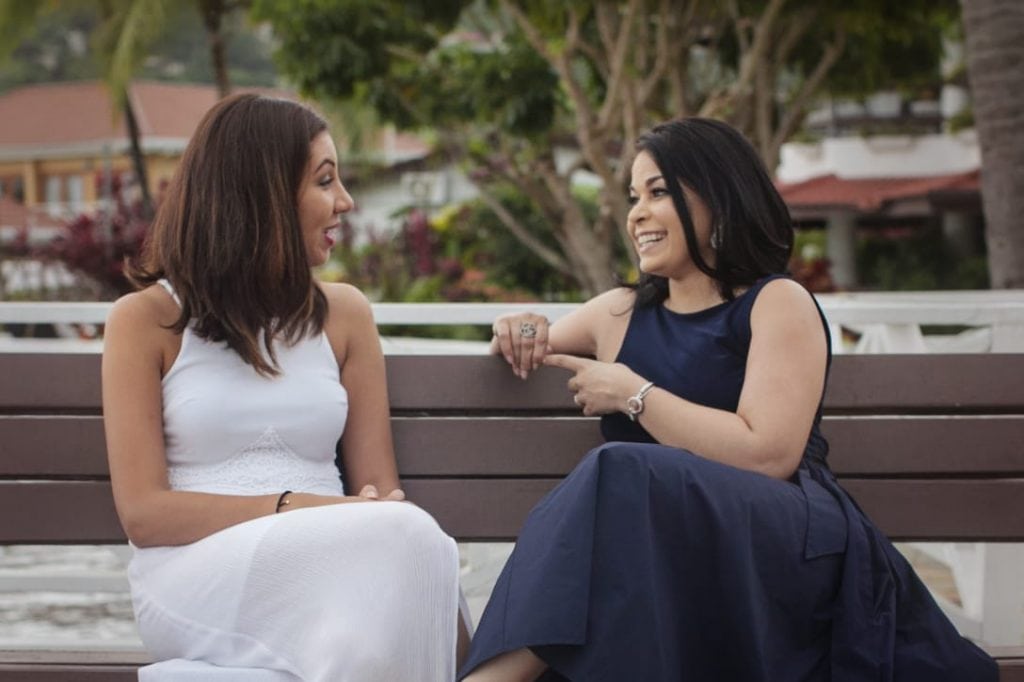 "I decided in that moment that I needed a partner who could help me and who would share my passion and vision for the company," Stone said. I didn't want an investor. I wanted a partner who would bring value and strength where I needed it most."
She turned to the sole friend who embraced the vision. A tea enthusiast in her own right, Seeterram had already invested hours listening to Stone share about the ups and downs of her journey and had become somewhat of a confidant.
"She was always very encouraging," Stone said. "She has her own herb garden and would always experiment with me on weekends in the kitchen with the latest healing herb she managed to harvest. I knew Stacy would be the ideal partner…I knew in my heart that she was exactly who I wanted to continue the journey with," Stone shared.
She credits the partnership for the success Caribbean Cure has garnered over the past year.
Seeterram, a former health management executive with over six years' experience at the national level,  joined the company in March 2017, and the mutual respect and admiration she shares for Stone is evident in the way she speaks about the partner she refers to simply as "Soph".
"I am now, and always have been awed by who she is. Her work ethic impresses me at least once every week," Seeterram said. "She is also very innovative and purposeful in her mission that our company is so much more than an entity that will generate revenue."
Contemplating these things, Seeterram said she felt a purposeful paradigm shift, one that could offer an opportunity for her to be a part of something less corporate, more interesting, more rewarding, and more impactful.
"It's the feeling that comes from creating something from point A to Z," she said. "And I felt like that was exactly what I needed."
WHAT'S SO SPECIAL ABOUT CARIBBEAN CURE TEAS
In mere months, Seeterram and Stone created five tea blends, and won the approval of family and friends who indulged in their curative, feel-good concoctions, but Caribbean Cure's official recognition as producers of world class teas was cemented when they won bronze medals at the internationally recognised Global Tea Championships, hosted by the World Tea Expo in Colorado, for their Tropical Relaxation blend in November, 2017, and again for Island Breeze in January, 2018.
The SIAL shortlisting is their most recent, and biggest nod from the international community.
The secret is in the process, said Seeterram. The tea leaves are slow-dried to maximise nutrient content. Each blend is also a delicate balance, formulated to "create a memorable and unique experience in every cup," she said.
There is also a little bit of history brewed in each cup of Caribbean Cure tea. Island Breeze, a delicate blend that includes cardamom pods and white tea, is a tribute to Stone's Afghan/Canadian heritage, and borrows from one of her family recipes; while Carnival Oasis with its inclusion of mauby bark, cinnamon and clove, transports Stacy – a Trinidadian, with roots woven throughout the West Indies – back to her childhood as it conjures memories of her grandmother's "magical" blends.
"We try not to worry about being successful," Seeterram shared. "What we do is work toward being significant. And from this, success seems to have naturally followed us."
RELEASING EMOTIONAL ATTACHMENT IN ORDER TO GROW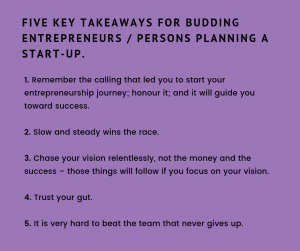 For any entrepreneur, a key success factor rests in the ability to maintain some emotional detachment from the business and product in order to make the difficult decisions necessary for brand development. Stone and Seeterram discussed this from the get go. If ever necessary, they would, no matter how difficult, have the courage to make the changes that would support growth.
Glass jars beautifully showcased the tea infusions they dedicated years to formulating. This packaging was therefore foundational to Caribbean Cure's conceptualisation. But when opportunity knocked, with a chance to export to Canada and Japan, these jars, because of their weight, became impractical. The partners therefore had to pivot to grasp the pending export opportunities.
In July 2018, Caribbean Cure, unveiled their new packaging, beautiful tea tins, adorned with designs created by a local artist.
EXCITING TIMES FOR CARIBBEAN WOMEN IN BUSINESS
"I am sure that someone could write an entire book on the struggles female entrepreneurs face…I think for me, the mental load of being a mother, and a dedicated entrepreneur is the biggest struggle I face," Stone shared. "Trying to balance my home and business life is a difficult task, and I think society tends to expect female entrepreneurs to do it all, successfully!"
The pair admit to experiencing both chauvinism and ageism, particularly when trying to pitch business ideas and close deals in male dominated settings. But they remain focused on the silver lining in the ever looming cloud of gender inequality.
On the flip side, Seeterram said, "I must confess; we've gotten so many blessings because of our gender. A good example is Caribbean Export's WE-XPORT programme. One of the reasons we qualified is because we are 100 percent female-owned."
The Caribbean Export Development Agency (Caribbean Export), a Regional trade and investment promotion agency supporting CARIFORUM firms with development for export, launched its Women Empowered Through Export (WE-XPORT) programme in March, 2018. The European Union, fund the programme and is supported by UN-Women and the Caribbean Development Bank, providing mentoring, training and numerous resources to Caribbean women in business to facilitate export or increase the export of their products and services.
Twenty businesses, all women-owned and operated, comprise the first cohort enrolled in the programme and are due to complete next year after a Women's Business to Business Forum.
"They have supported us in our vision and given us many opportunities internationally to expose our brand that we may not have otherwise had," Stone said of Caribbean Export and WE-XPORT. They've have been absolutely invaluable resources, but they also encourage stick-to-itiveness, she shared. "Caribbean Export, for example, is like a buoy in deep water, there for you when you've been swimming too long and hard, and you need a break."
WORD OF ADVICE FOR BUDDING ENTREPRENEURS
As they reflect on a journey that has not been without immense challenges, Stone and Seeterram share some seeds of inspiration with fellow, and aspiring entrepreneurs.
"Do not fear mistakes," Stone advised. "Regrets are far more difficult to deal with than mistakes. You walk away from a mistake having learned something, but a regret is a missed opportunity. Even if it seems beyond your reach, try. You will amaze yourself with what you are capable of."
Finally, the partners stress that slow and steady wins the race. Developing a business is a marathon. So it's not about speed. It's all about endurance.
"There will be lots of tears," Seeterram said. "But the moments of pride when it all comes together are priceless."Â
FIND OUT MORE ABOUT CARIBBEAN CURE: Facebook, Instagram, Twitter and LinkedIn – @caribbeancure and by visiting their website www.caribbean-cure.com.Â