Full Circle Animation Studio was recently contracted by Big Jump Entertainment in Ottawa Canada to produce the animation for season three of 'Animals,' an HBO TV series featuring performances from the likes of RuPaul, Aziz Ansari, Wanda Sykes, Raven-Symoné, Usher, among others. Considered to be one of the funniest, most idiosyncratic shows on television, an in-house team of 12 people (9 animators, one animation supervisor, one project coordinator, and one project manager) worked tirelessly between December 2017 and May 2018 at the studio located in Trincity, Trinidad. "This show had a very unique and distinctive style of design and animation. It looks simple and minimalist but it required us to transmit a lot of emotion through the characters using very limited animation movement. Going in, we had otherwise underestimated how challenging that could be while keeping the provocative edge that really defines the style of the show. In that regard, it was a new technical experience for us" said Managing Director Jason Lindsay.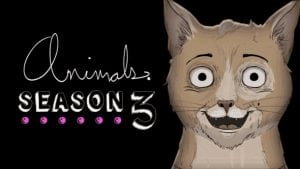 This is the first time that an animation studio in Trinidad or throughout the Caribbean has been contracted from an international studio for a full season of a TV show on a major network. Still only a modestly sized studio by international outsourcing standards, this opportunity has provided the company with financial sustainability and a platform for growth technical/creative capacity building. "For a young animation industry like ours here in Trinidad, the main long-term benefit of an opportunity like this is the investment in our human resource. The experience and technical/creative insight gained from our animators working with an experienced production studio like Big Jump Entertainment is invaluable. The entire team benefited from it tremendously" further stated Lindsay.
This achievement however has not been Full Circle's first endeavor doing outsourcing work for a major network. The company has also worked on productions in smaller quantities broadcasted on The Disney Channel, Nickelodeon, Universal Studios, DreamWorks TV and RAI.  Projects like this and other overseas productions outsourced to Full Circle puts the company in a position where over the last 3 years, over 50% of its income has been from foreign exchange revenue, with this most recent project catapulting its export earnings for the first half of 2018 to over ninety percent of its income during that period – a very unique positon for any small business in general to be in but a major achievement for the studio and the industry as a whole. Managing Director Lindsay is careful to point out the role that regional collaboration across the Caribbean has played in various capacities in getting the studio to this point in its growth.  He explained that the scale and timing of some of the projects, coupled with the diverse skillsets needed often requires Caribbean animation companies to collaborate to deliver.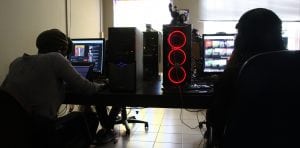 A background illustration from the CARICOM mini-series Pepperpot Valley overlaid with the network of regional relationships relied on to produce it. Parts of this same network are used to produce other regional animation projects done by Full Circle. "On our very first outsourcing job, we collaborated with animation studios in Barbados and Jamaica. Since then, it's not uncommon for us to work with animation studios in St. Lucia, Barbados and Jamaica for international outsourcing clients. We've collaborated on projects with Malfinis Productions in St. Lucia, Alycone Animation and Skyres in Jamaica and Westoonz and BIMAP in Barbados. We've also developed working relationships with a network of recording studios, casting directors and voice actors in Grenada, Belize, Suriname, Dominica, and Guyana for projects based on Caribbean content like the CARICOM mini-series Pepperpot Valley. The regional animation industry is still relatively young in the Caribbean. In that respect, a single animation project for either a feature film or a TV series requires a workforce with a diverse creative/technical skillset that can exceed the capacity of any one Caribbean nation. Fortunately, for a digital media industry like animation, location is not a challenge – but training is."
Along with local support agencies that support services export, Regional organisations like the CARICOM Secretariat, the Inter-America Development Bank, Caribbean Development Bank, the European Commission and UNDP OECS have given Full Circle Animation tremendous support in their development over the years. The Company has also benefited indirectly from the investment that CARIBBEAN EXPORT has given towards supporting the region.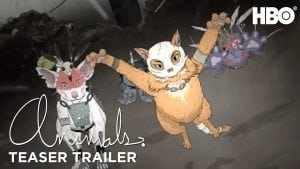 This is a historic accomplishment for the Full Circle and development of the digital economy in the Caribbean as a whole. One that exemplifies how the Governments, NGOs and the education sector and enterprise can work hand in hand to achieve and change the landscape of theeconomy. Under the leadership of MD Lindsay, a creative business mind was brought into a creative space and out of it spawned a business model that is unique and applicable to the unique creative economy. Below the surface of this model is the seamless education thread that few are aware of and appreciate. Students from the YTEPP Animation Retraining Programme, went on to complete the UTT Diploma in Animation programme and now ninety percent of the workforce are part of that thread that makes up the studio. They have become an indispensable resource for the success of this industry.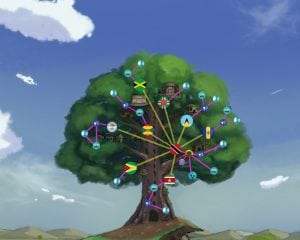 This is a great example of success in the creative sector and the function of seamless education in a region of small islands that depend on foreign exchange. Animation is now heavily featured on the curriculum in regional training institutes. Programme coordinator for animation studies at the University of Trinidad and Tobago Camille Selvon Abrahams reminds us "Ninety percent of the young staff at Full Circle Animation Studio are UTT animation alumni. The current animation supervisor is a past student Mindy Bailey and most of the lead team are past students of UTT animation programme. Regionally this can be replicated as a model for our unique economic landscape. Led by a tried and tested managing director Jason Lindsay, this is an example to the Caribbean and world that perseverance pays off and we can create our future if CARICOM governments, education institutions and small businesses work in tandem"
Season 3 of the HBO animated series ANIMALS will premiere on August 3rd at 11:30pm. (PR)