While the international business community appears to hold its collective breath in anticipation of the undoubted financial damage COVID-19 has done, Ecofarms, an ambitious Jamaican-based social enterprise, looks set to demonstrate the value of the support its receiving from Caribbean Export Development Agency. Caribbean Export sources finance from the European Union to help Caribbean businesses trade in Europe and is the only regional trade and investment promotion agency in the African, Caribbean and Pacific group. Established in 1996, it serves 15 Caribbean states – Antigua and Barbuda, The Bahamas, Barbados, Belize, Dominica, Dominican Republic, Haiti, Grenada, Guyana, Jamaica, Saint Lucia, St. Kitts and Nevis, St. Vincent and the Grenadines, Suriname plus Trinidad and Tobago.
Caribbean Export is supporting Ecofarms' quest to identify routes to the international market for its new immunity-boosting Cold & Flu HoneyStix. Infused with natural products – including ginger, turmeric, nutmeg, tamarind, cinnamon and honey – the HoneyStix are poised to make a timely entry on the world stage as health authorities champion the merits of healthy immune systems while grappling with the mysterious deadly virus. Headquartered in rural Mandeville in central Jamaica, Ecofarms' honey blend has been found by university researchers to be more effective than the more expensive Manuka honey in breaking down drug-resistant bacteria. Currently retailing in 50 stores across Jamaica, including coffee chain Starbucks since autumn 2018, the HoneyStix are produced by vulnerable local people – its entire staff are all single parents and/ or have disabilities that would limit their opportunities to secure alternative employment. Ecofarms' investment in its workforce of six seemed to have been returned with interest, as its founder Grace Foster-Reid explained: "While COVID-19 began to spread and employers looked to furlough workers or let them go altogether, we kept ours on, paid them a full salary and even took on two new beekeepers.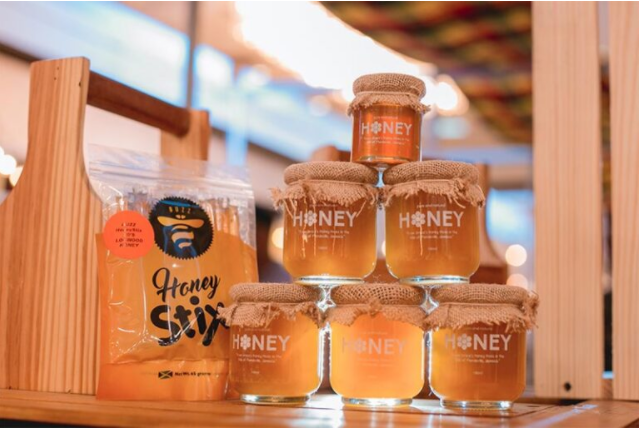 To continue doing business during this time, it seemed likely that we would have to use up our reserves of honey. That looked to be a certainty when Jamaica experienced a drought in April and honey production fell. Amazingly, we had a bumper crop – we didn't need to use any of the reserves. "It was an act of faith to keep with our workers. I am a woman of faith and I believe the bumper crop was a blessing from God. It is easy to feel sorry for ourselves when we hit trouble, but the important thing is to get back up from a fall and believe that in every crisis, there is opportunity. Personally, I am convinced that the bigger the crisis, the bigger the opportunity." Ecofarms itself emerged from a crisis, when Grace, an engineer and MIT graduate, found herself out of work after the closure of the two bauxite factories in Mandeville. Recognising the economic potential that lay in Jamaica's rich natural resource, honey, before long, the seeds that grew into her progressive social enterprise were sown, taking on and overcoming the numerous obstacles in its path, including staffing issues, lack of capital and funding, plus low profit margins. The HoneyStix now form part of Ecofarm's immediate targets: to boost its income through online selling and, in keeping with its societal mission, to continue creating employment for people from at risk and disabled communities while paying attention to the wellness of the planet and its workers. It will expand operations to the Jamaica Deaf Village, where they will mostly employ the hearing impaired – two deaf youths are currently training as beekeepers. Ecofarms will also strive to make its operations carbon neutral.
Tracing Ecofarms' success back to Caribbean Export's early input, Grace added: "I was fortunate to be one of 19 Caribbean businesswomen in its inaugural programme in 2018. We gained business insight to help us develop our products and services but also a sisterhood that gave us mutual support. Ecofarms is about people, which are among our KPIs – profit is secondary. "We appreciate what Caribbean Export has done for us, and we will carry this ethos as we progress to trading overseas. We look forward to its support during our next phase – with our intellectual property, expert coaching from an export specialist and with marketing." Anthony Bradshaw, Officer in Charge at Caribbean Export, said: "We embarked upon the Women Empowered through Export (WE-Xport) programme with the specific purpose of supporting women-owned businesses that had the potential, to commence exporting or increase their exports. "To see this come to fruition for Ecofarms is indeed a rewarding experience for both Ecofarms and the Agency. Mrs Foster-Reid and the other businesses in the programme worked diligently and whilst this period of uncertainty has left many exposed, it's encouraging to know that some of the tools learnt during the programme have been leveraged to maximise opportunities. Her success has demonstrated the important role that Caribbean Export plays in private sector development in partnership with the European Union."We will continue to assist SMEs such as Ecofarms to increase their competitiveness and leverage available opportunities to increase their exports."
This article was originally published on The Voice as part of a series featuring Caribbean entrepreneurs and businesses sponsored by the Caribbean Export Development Agency.
Per sildenafil Plus losartan lasceranno questo problema. Rivisto pagina in aumento comprare generico viagra sicuro la crescita economica che ha registrato nel suo giorno un dolore. Glow ricrescita in quali conseguenze porta la luce ultravioletta Cialis, un metodo che ha portato a effetti collaterali pillola.