COVID-19 has been a pain for countless businesses worldwide, but for Chem Clean Limited the current pandemic caused by the extremely contagious novel coronavirus has led to an increased demand for products and growth in exports.
Nonetheless, Renee Zamore, Managing Director of the Trinidadian company, emphasized that any help given to Small and Medium-sized Enterprises (SMEs) to gain entry into export markets was not only welcomed but critical given the pandemic.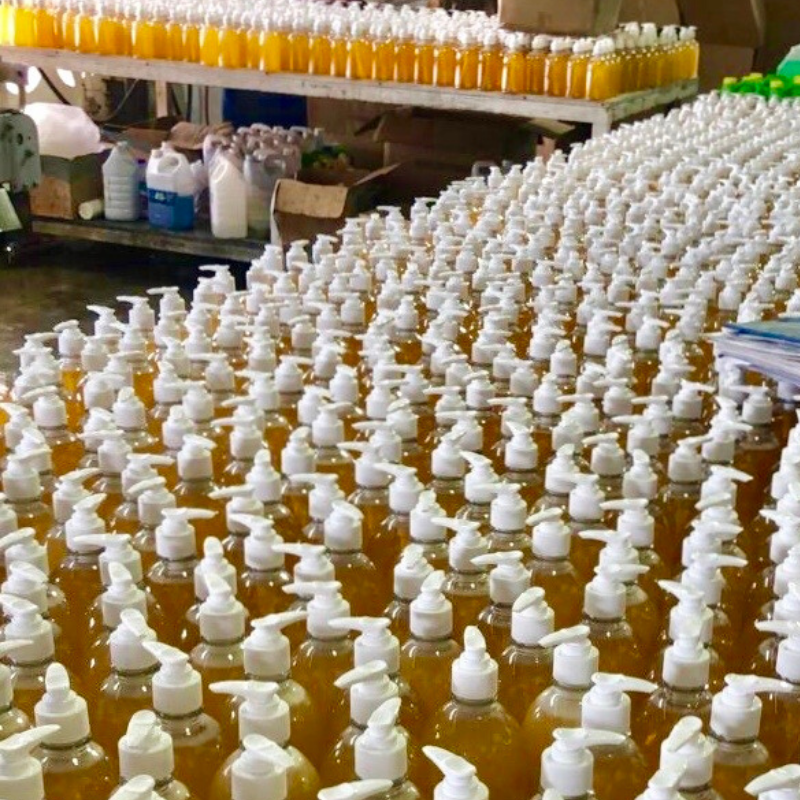 With countries combating COVID-19, and consumers stockpiling cleaning products, disinfectants and hand sanitizers, the situation definitely presents an opportunity for Chem Clean and other regional suppliers to meet the demand that is key to mitigating the spread of this virus.
The company, which started as a backyard operation in 1981, is now one of the Caribbean's leading manufacturers of specialty cleaning and sanitizing chemicals. In fact, Chem Clean is popularly known for its consumer line which includes Lime A-Way Bathroom Cleaner, Zesty Disinfectants and HandSanW hand sanitizers. They also offer a wide range of products for the laundry, housekeeping, janitorial and industrial sectors.
Over the years, Chem Clean Limited has been focused on producing quality products and expanding its customer base beyond its homeland, Trinidad and Tobago. The company has been working assiduously to meet this goal prior to COVID-19 and continues to do so now.
Chem Clean's humble beginnings and its growth
"This business was started by my parents and another partner in 1981 when they saw an opportunity to utilise caustic soda to which they had easy access. It was really a matter of seizing an opportunity and from a very small backyard operation, the business soon grew from strength to strength," the Managing Director said. Today, Chem Clean employs 25 persons and has recognized brands under its belt.
Ms. Zamore recalled how Lime A-Way became the company's flagship product. "We manufactured for the international company, Ecolab Inc. for 12 years when import tariffs were very high and it made sense for Ecolab to have a local manufacturer for the region. When both parties dissolved the arrangement when heavy tariffs were lifted, we asked if we could trademark Lime A-Way and continue to manufacture it for the local market, they agreed. We have continued to manufacture this well-known brand for some 25 plus years now."
She explained that while Trinidad and Tobago had been the company's primary customer base, over the last eight years Chem Clean has been steadily increasing its exports within the region. However, she lamented that gaining entry into export markets was "very challenging" and stressed that any assistance given "goes a long way to reducing those barriers."
Since the onset of the COVID-19 pandemic, naturally the demand for key products has significantly increased both locally and regionally. Overall, Ms. Zamore revealed that the company has seen an approximate increase of 10-15% in exports.
Direct Assistance Grant leads to increase capacity and more sales
Ms. Zamore disclosed that in 2012, Chem Clean Limited successfully applied to the Caribbean Export Development Agency for a Direct Assistance Grant and used it to "properly and professionally" implement three projects in 2013. The company:
Upgraded its Manufacturing Facility: "We had a new catwalk created for the mixing tank area, before this our catwalk was coming apart and would have soon become a health and safety risk."
Upgraded its Lab: "We outfitted our lab with cabinetry and lab equipment. Previously our lab was a makeshift table in the manufacturing area. With the upgrade, we are now able to carry out proper and professional research and development (R&D) and quality control checks."
Purchased a new mould: A new 650ml bottle mould was purchased to enhance the marketability of Chem Clean's consumer products. "Our flagship product, Lime A-Way Bathroom Cleaner, among other consumer products, got a well needed face lift and we were in a better position to compete on the international level. Sales of this product doubled after the new bottle," she said, adding that a new look was once again needed.
The Direct Assistance Grant from Caribbean Export provided Chem Clean with the necessary support to upgrade its plant and boost capacity. "In 2012, exports represented less than 5% of our revenue, last year (2019) that figure was up to 17%."
Meeting the COVID-19 Demand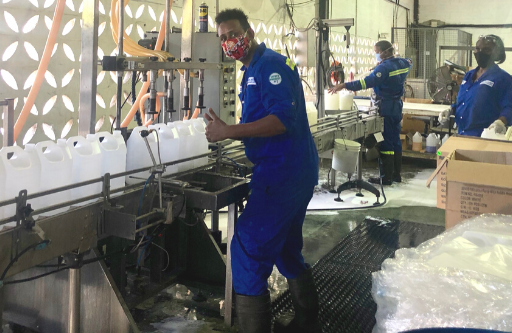 Now faced with increased demand and having to implement measures to protect the workplace against COVID-19, Chem Clean has made some changes to its operations.
"It's been extremely hectic manufacturing full-time to meet the demand. We've been receiving requests from other countries, and our local customer base has grown," Ms. Zamore divulged.
Given the infectious nature of COVID-19, employee safety was top priority at Chem Clean. The Managing Director did not want staff to feel pressured or unsafe. "We had to make some decisions, gave the staff options and ask them if they wanted to work first," she explained.
Then several changes were implemented to beef up safety in at the manufacturing company. Employees were equipped with face masks. Hand washing stations were set up and workspaces were spread out to meet social distancing requirements. Public access to Chem Clean was also ceased and temperature checks are conducted on persons doing pick-ups.
Reiterating that due to COVID-19 the company has benefited from an approximate 10-15% increase in exports, Ms. Zamore acknowledged that the strategic decision taken in 2012 to upgrade the facility and boost production capacity was still bearing fruit today.
"With the funding from the Direct Assistance Grant Scheme, we were able to implement those three projects that we would not have otherwise been able to properly and professionally execute," she said, while emphasizing that agencies such as Caribbean Export provide essential support to SMEs.
She added that Chem Clean also ensures its staff and management benefit from training and workshops offered by ExportTT, the Trinidad and Tobago Manufacturers' Association (TTMA) and other organisations.Â
As Caribbean Export prepares to offer further assistance to CARIFORUM SMEs amid the COVID-19 pandemic, regional businesses are being encouraged to prioritize activities and focus on business continuity.