The general food retail market in Germany has two severe disadvantages for Caribbean exporters: the quantities needed are far beyond the capacities of Caribbean companies and the prices are far below levels which would suffice. Therefore the only opportunities in the German food market are niche markets. The three fastest growing niche markets are products from organic agriculture, fair trade labelled products and vegetarian food.
The agro-processing sector has played a critical role in the diversification of the Caribbean's agriculture sector, with the process of making jams, jellies, fruit nectars and other beverages well established within the region. There is an estimated number of over 300 agro-processors in the CARIFORUM region who are mainly located in Trinidad and Tobago, the Dominican Republic, Guyana, Jamaica and Suriname and to a lesser extent in Barbados, Belize and Saint Lucia.
Both the capacity as well as the opportunity may be available to build upon the existing and growing trade relationships between the European Union and CARIFORUM states. This may be explored by further export activity of CARIFORUM agriculture and agro-processing products particularly into the German market.
When seeking to enter the German market, potential exporters should note that buyers generally expect high quality products at low prices. However, Caribbean exporters face several challenges, sharing many features of other small states' size-related macroeconomic vulnerabilities, such as lack of economies of scale, capacity constraints, export diversification and exposure to natural disasters.
Caribbean countries' smallness constrains the achievement of economies of scale and economic specialization. States also face rising losses caused by natural disasters from 0.9% of annual GDP in the 1980s and 1990s to 1.3 % of GDP in the 2000s. Overall, the region has demonstrated declining export competitiveness over the years (IMF, 2013). In light of the above, competition based upon price would be difficult for Caribbean firms particularly wanting to enter the lowpriced German food market. Therefore it is important to have a unique product which may justify higher pricing, with a special story that could be sold along with the product as part of its marketing and branding appeal e.g. "Organic Caribbean.''
All three identified export categories of organic, vegetarian and fair trade have specialized traders who supply local shops and retailers. Caribbean exporters who are interested in supplying the German market should seek to collaborate with such traders in order to successfully enter the market. Such market research is critical in order to determine which product segment of the market you wish to supply and hence which type of specialized traders may prove to be the most suitable business partners for exporting into Germany or the EU.
Organic Market Trends
Globally 37 million hectares (ha) of the production surface area are allocated towards organic food. In 2010, the European market for organic food was valued at €20 billion with major markets such as France and Italy valued at €3.4 and 1.6 billion respectively during 2012. For Germany alone during the 2011 to 2012 period, the value of this sector increased from €6.64 billion to 7 billion with the share of organic farms in Germany during 2012 accounting for 8 % of total farms and 6.3% of production surface.
Demand for organic food within European markets may be exhibited by the per capita expenditure trends for such products. For example during 2011 (as seen below) up to 177 euro per capita was spent that year. The quite low value for Germany is due to low food prices even for organic food, a market characteristic which is important to note for prospective exporters.
Table 1: 2011 Expenditure on Organic Food for Select European Markets

German Organic Market Opportunities
Total German organic food imports ranged between 5% and 20% of total turnover, depending on the product group. In 2012, Germany's production surface area for the organic food sector; of 1.043 million ha or 2.577 million acres (ac), was observed to be growing slower than organic food turnover, demonstrating a growing trend of import activity to satisfy local demand. During the 2009 to 2012 timeline, the percentage share of organic food in total food expenditure by German final consumers amounted to 6194.4 billion euro. This value represented an average of around 3.6% of total food expenditure increasing steadily each year by approximately 0.2%. Aside from bananas, organic products from Latin America into Europe included items such as sunflower kernels, soy beans, flax seeds, onions, apples (20% of apple imports are from Latin America). These products are certified by recognized control bodies according to the European regulations.
Relevant EU Importing Requirements/Regulations
The EC Regulation (EC) No. 1235/2008 (which was amended in 2012 by EC Regulation (EC) No. 508/2012) identifies the list of control bodies and authorities considered competent to carry out controls and issue certificates for "third country'' exporters such as from the Caribbean for the purpose of equivalence. As it relates to organic products, all control bodies recognized by the EU Commission to conduct such product certification, may be found listed within Annex IV of the EC Regulation (EC) No. 1235/2008 which contains the detailed rules relating to the arrangements for the imports into the EU. Further details on this regulation as well as contact information of certifying bodies may be found listed under Annex IV p.3-45. According to the rules a "Certificate of Inspection" would be required for every shipment to the EU.
The EURO-Bio logo represents the very minimum level of EU standards that are acceptable for imported organic products. This label provides confidence that the goods produced are done so entirely in line with the EU organic farming regulations and according at least to a minimum level of EU standards.
As such it is important to note that most producers opt to be certified beyond the minimum legal standards of the EURO-Bio logo for organic products. Consequently, only between 40% and 45% share of organic products are certified under the minimum legal requirements of the EURO-Bio labelling system. Nevertheless it may be quite feasible, as well as cost effective for Caribbean companies seeking to enter this market to first pursue certification under the minimum standards of the EURO-Bio labelling system.
Vegetarian Products
Graphically depicted below is the growth in the turnover of vegetarian semi-prepared food within the German retail market. While the category of vegetarian products is difficult to define (e.g. egg and milk products are accepted by some of the vegetarian consumers, in some cases even fish), the diagram below shows that this segment is characterized by steady growth of products which replace meat products such as sausages or burgers.
Table 2: Total turnover of vegetarian semi-finished food in the German retail market (EUR, thousands)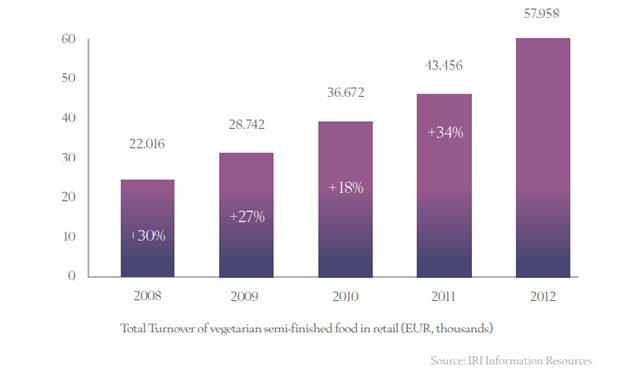 Caribbean exporters interested in tapping into supplying this market need only to satisfy sanitary and phyto-sanitary (SPS) measures for this type of product. The sector is not a protected one in Germany; therefore Caribbean exporters may sell their products at the higher price point associated with vegetarian labelled goods such as ready-made (pre-cooked) convenience meals without animal by-products. An attractive approach to entering this market would be to deliver specifically to companies which currently supply vegetarian buyers. Interested exporters should research the current trademarks associated with these types of products and find a suitable business EU partner for market entry. The advantage of seeking to enter this market is that exporters may benefit from a higher price point for their goods while only having to satisfy German/EU SPS measures for vegetarian fresh and processed foods.
Fair Trade
Fair trade is an alternative approach to conventional trade based on a partnership between producers and traders, businesses and consumers and complying with some minimum social standards. The Fairtrade Labelling Organisation coordinates fair trade labelling at an international level from their office in Bonn, Germany. They set international fair trade standards, organize support for producers around the world, develop a global fair trade strategy and promote trade justice internationally. The organization also helps producers to gain fair trade certification and develop market opportunities. They do this through locally- based liaison officers which provide training, guidance on certification and facilitate relationships with buyers.
Liaison officers additionally provide advisory services to farmers and workers, as well as training and information to help them comply with the fair trade standards, strengthen business capacities, and deepen fair trade impact. There is a growing trend of EU imported products being labelled under both fair trade and organic food regulations, as observed below. This reflects the more recent understanding of sustainability as linking social, ecologic, economic and cultural elements. The largest seller of fair trade products in Germany is GEPA, a fair trade non-profit organisation, which holds 19 % market share.
Table 3: 2012 Total Fair Trade Products Turnover and Percentage Share of Organic Products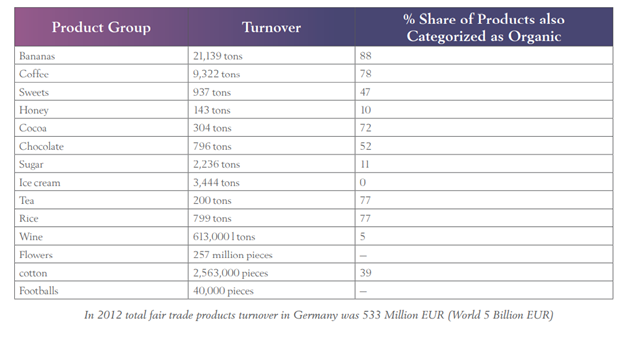 Becoming Export Ready for Europe
Several opportunities have been identified for entry into the German market for organic, vegetarian and fair trade products. Based upon this, the next step for Caribbean producers and exporters would be to determine how to get their products ready to enter the EU market. Within the Caribbean region several business and export development services are available, such as:
The Productivity Network (ProNET) A business and export development programme available within the CARIFORUM region. For further information about the programme please contact the Caribbean Export Development Agency.
The Services of the Europe-AfricaCaribbean-Pacific Liaison Committee Pesticide Initiative Programme (COLE ACP PIP). The organization has developed several Crop Protocol and Good Practice Guides which are compliant with EU regulations including pesticide maximum residue limits (MRLs). Such regulation guides have been developed for products such as avocado, mango, dasheen, coconut, cassava, and potatoes among others.
The German organic, vegetarian and fair trade food markets present varying export opportunities for export-oriented Caribbean firms. In order to leverage these growing trends by EU and German buyers, Caribbean products must first meet the expectations and legal standards which regulate the EU market. Crucial services are available to assist Caribbean companies in meeting these export regulations. Once this is achieved, the Caribbean firms only need to market and brand a product which can uniquely appeal to the German consumer.
This article written by Dr Rainer Engels was originally published in the first edition of the Caribbean Export OUTLOOK magazine.