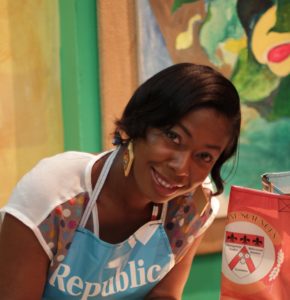 Tamara Prosper is an artist who has always been drawn to the world of business, so she combined her studies in business management with her passion for art, to create the Grenada-based, luxury, eco-jewellery brand, Tambran by Tamara.
Prosper started this venture in 2013 while studying at UWI in Trinidad & Tobago, inspired by her realisation that the university generated a great deal of reusable waste material.
The quality of this material, said Tamara, was high – discarded banners from seminars and scrap pieces of wood – and inspired her to experiment with transforming one man's waste into treasures that would adorn the necks, wrists and even ears of others.
With no advertising budget, or capital for a storefront, Tamara utilised social media as her trading platform, and entered competitions in order to acquire some of the capital she needed to grow her business.
Maintaining momentum, and understanding your product's value
"I absolutely love what I do," Tamara shared. "So that makes it easy for me stay motivated."
In essence, Tamara proves daily that if you can make a living doing the thing you love, you will never work a day in your life. But while this is a tremendous blessing, it can also be a curse. Prosper shared that her passion for her work sometimes poses a problem in terms of pricing.
"I feel like it's so easy to do, because I enjoy it so much, that I can sometimes undervalue my product," she said.
A 2014 Eco Challenge Caribbean Award at the UN-funded Talent and Innovation Competition of the Americas also helped to validate the Tambran brand and provide greater recognition, further incentive for Prosper to prosper, by scaling up, and continuing to innovate.
What's next for Tambran by Tamara?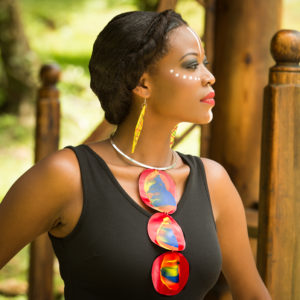 New jewellery collections are in the works that will incorporate natural materials such as seeds and pods from Shak Shak trees, paint and some synthetics.
Focused on her goal of providing a central place where customers can find her product, Prosper will soon unveil a "storefront" with a difference. She recently purchased a second-hand vehicle that will double as both a mobile and stationary store, allowing the Tambran by Tamara team to drive to highly-trafficked events, and return to their base after.
Finally, testing is currently underway to facilitate plans to branch into the world of fashion. Trendy hand-painted jeans, tops and even Tambran by Tamara couture may be gracing Caribbean runways in the not too distant future.
Tamara envisions the Tambran brand, growing to become a recognisable eco-Caribbean brand with a significant presence in Barbados, Grenada, Jamaica and Trinidad within five years.
"I want it to become the Michael Kors of eco-jewellery," Prosper said.
A few takeaways for budding & aspiring entrepreneurs
Believe in your ability, and know that you are good enough. Know and believe in the quality and value of your product, and price it accordingly. This, Tamara says, is perhaps the most valuable piece of advice she can offer to any budding entrepreneur.
And also, just get started, she said.
"Don't wait on the right time, because the right time never comes. You don't have to know it all in order to get started; you will learn along the way."
Finally, Tamara advises Caribbean entrepreneurs in particular, to be inspired, rather than discouraged, by the success of entrepreneurs in developed states.
"But you must start by believing in yourself, your vision and your product."
Visit the We-Xport booth at Bmex in June 2019 to see what, the eco-jewellery brand, Tambran by Tamara has to offer.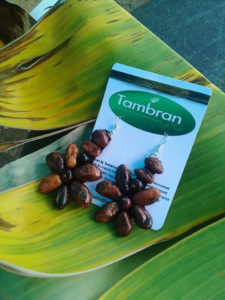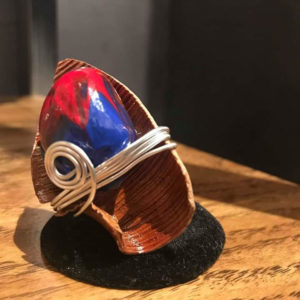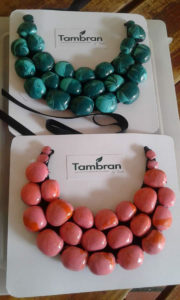 FIND OUT MORE ABOUT Tambran by Tamara: Facebook and Instagram – @tambranbytamara