Chronic diseases are on the increase worldwide, however there is a global trend seeking to combat those illnesses through healthy choices.
Europeans, in particular, are becoming more health conscious and are focused on using natural products, ranging from food to make up.
In 2018 the European cosmetic market was valued at approximately 78.6 billion with the natural cosmetics niche market accounting for some five per cent of the total market.
Europeans also enjoy sauces, condiments and seasonings and have for the past couple years imported the same from a number of Caribbean countries. Sauces, condiments and seasonings made in Caribbean countries and exported to Europe in 2018 are valued at US$ 8,149,000.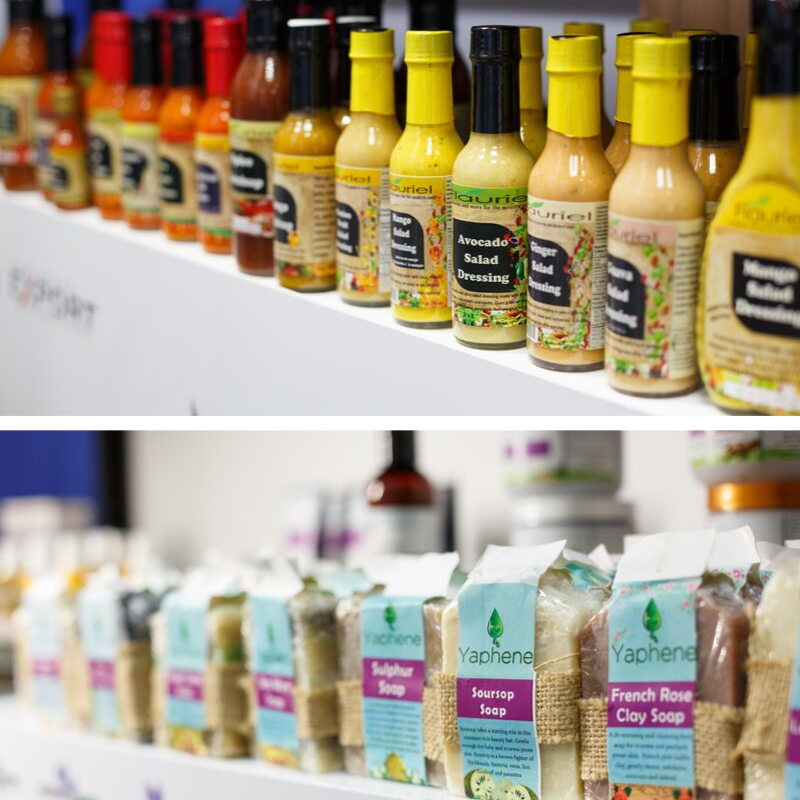 Anastasha Elliot, who hails from Saint Kitts and Nevis, has been eyeing both the European cosmetics and condiment markets with the intention of getting a piece of the pie. Her company, Sugar Town Organics, producers of natural food and cosmetics, will participate in the upcoming 4th CARIFORUM-EU Business Forum, slated for September 26 to 28 in Frankfurt, Germany.
Organised by the Caribbean Export Development Agency, the forum will bring together over 150 stakeholders and businesses from 15 CARIFORUM countries and Europe with the intention to build partnerships and to boost exports to the continent.
Anastasha's journey to producing a range of healthy natural products for everyday use began when her mother was diagnosis with cervical cancer. That pushed the family to look critically at the products they used and the food they consumed.
That forced us to take a look at our environment, our food source, what and how we ate, how we were living both the emotional and mental aspects and the products we used on our skin and hair, Anastasha recalled.
As a result, a number of things happened:
The family adopted a holistic lifestyle, embracing indigenous herbs and fruits.
Her mother beat cancer in four months.
Anastasha and her mother launched Sugar Town Organics, a natural agro-processing company in 2010.
Built on strong traditional knowledge in herbal care passed down through generations, the company combines science and cultural practices to the produce over 80 items for everyday use or consumption. With Anastasha's degree in culinary arts, along with diplomas in organic hair and skin care formulation, she ensures everything they create helps consumers to live healthier lives.
Sugar Town Organics produces natural food and cosmetics under two brands: Flauriel and Yaphene. Everything is made with raw, active, high performance ingredients sourced from indigenous botanical fruits, herbs and plants found in Saint Kitts and Nevis and the Caribbean. Raw material include hibiscus, fennel, nettle, coconut, ginger, neem, soursop, sorrel, sugar cane, sea weed, and tarragon.
For persons seeking the best in personal care products, Yaphene offers a wide variety of options that are powered by nature. Free from GMO, toxins, fillers, parfum, synthetic chemicals and artificial colours, the line includes shampoos, conditions, hair growth serums, oils, toothpaste, eye cream, facial cream, hair cream, and deodorant. Local spas and hotels use Yaphene products.
Under the Flauriel brand, the health-conscious person can choose from natural jams, salad dressings, pancake syrup, vinaigrettes, liqueurs and wine made from a variety of indigenous crops such as hibiscus, mango, coconut, sorrel, soursop, avocado, guava, ginger and more.
The mother-daughter company works with eleven local farmers and sources additional raw material from Barbados, Dominica, Grenada, St. Vincent and the Grenadines and Trinidad.
Sugar Town Organics can be found in over eight stores in St. Kitts. The company is now focused on exporting its brands throughout the Caribbean and Europe.